News > Nation/World
Nations to lift sanctions on Togo
Sun., Feb. 27, 2005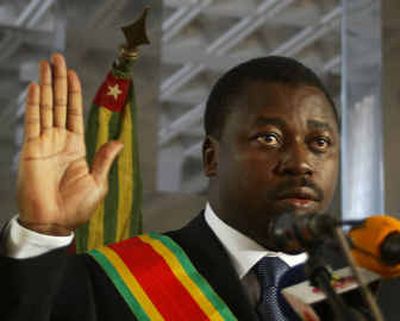 LOME, Togo – West African leaders lifted sanctions against Togo after its military-installed president stepped down, but the African Union warned the government Saturday it must ensure that upcoming presidential elections are fair and transparent.
The presidents of Niger, Benin, Ghana, Mali and Nigeria will meet in Lome, the Togolese capital, on Monday to discuss the April election and ways to strengthen democracy in the country, the Economic Community of West African States, known as ECOWAS, said in a statement on Saturday.
President Faure Gnassingbe, 39, announced his resignation late Friday after being installed by the military Feb. 5 when his father, Gnassingbe Eyadema, died in office after ruling the country for 38 years. He was Africa's longest-serving leader and had used his military and repressive rule to resist the wave of democracy that rolled across the rest of sub-Saharan Africa in the 1990s.
Gnassingbe, who had been under growing pressure from the United States, the United Nations and West African leaders to resign, said he was stepping down "in the interest of Togo." He promised that elections, in which he will run, would "guarantee transparency and offer an equal chance to all the other candidates."
Parliament later met in a special session and named Deputy Speaker Bonfoh Abbass as interim president until an elected leader takes office.
The military's appointment of Gnassingbe as president, and the subsequent retroactive amendment of the constitution to make the move technically legal, had caused widespread outrage and deadly clashes between protesters and security forces.
But a week ago, Gnassingbe bowed to domestic and international pressure and announced presidential elections would be held. He also lifted a two-week-old ban on political activity, allowing demonstrations and other events if plans were submitted first to the government.
Togo, a former French colony that gained independence in 1960, has an annual per capita income of $270 from an economy based on cocoa, coffee production and mining. The country is slightly smaller than West Virginia and sits between Ghana and Benin on the Gulf of Guinea on the west coast of Africa.
ECOWAS had led the campaign against what it called a military coup that installed Gnassingbe. Shortly before he stepped down, the larger African Union had adopted the ECOWAS sanctions regime.
It was not immediately clear if the AU now would lift sanctions, but the 53-nation organization said Togo had "cleared the path for a return to constitutional order." Nevertheless, the group said, Togo needed to do more to ensure "the success of a democratic process, notably the organization of free elections, transparent and open to all."
Gnassingbe held an election rally in Lome on Saturday, while opposition-party supporters marched in a separate part of town along a carefully negotiated parade route designed to keep the rivals apart.
Local journalism is essential.
Give directly to The Spokesman-Review's Northwest Passages community forums series -- which helps to offset the costs of several reporter and editor positions at the newspaper -- by using the easy options below. Gifts processed in this system are not tax deductible, but are predominately used to help meet the local financial requirements needed to receive national matching-grant funds.
Subscribe now to get breaking news alerts in your email inbox
Get breaking news delivered to your inbox as it happens.
---