Sports
Simply a perfect finish for GU women
Sun., Feb. 27, 2005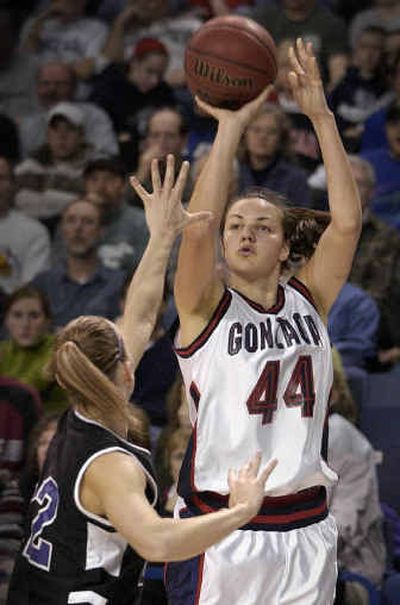 Spectacular.
From the 81-35 blowout of Portland to the perfect West Coast Conference season; from to the emotional pregame ceremony for the seniors to the record crowd of 5,825, the 25th-ranked Gonzaga Bulldogs were spectacular Saturday night at the McCarthey Athletic Center in running their nation-best winning streak to 21 games.
In the first game since being ranked for the first time, the Zags wrapped up their first league title in 17 years with the second 14-0 mark in WCC history. The first perfect season was in 1996 by Portland when GU coach Kelly Graves was an assistant for Pilots' coach Jim Sollars.
"I'm glad he was here," said Graves, who is in his fifth season. "I told him before the game it was because of him I'm coaching this team now. He gave me my first Division I job. He understands, he's been at the top."
The outcome was decided quickly.
After the Pilots hit their first three shots to take a 6-4 lead they went scoreless for seven minutes, missing eight shots. Meanwhile the Bulldogs (25-2 overall) went on a 21-0 run, hitting 10 of 15 shots. On four of the misses, GU rebounded and scored.
Stephanie Hawk and Raeanna Jewell combined for the first 11 points.
"Gonzaga has a nice ball team," said Sollars, whose 19th season just concluded at Portland (6-21, 1-13). "Those kids have worked hard. They've come back from a long way down a few years ago. Gonzaga and Spokane should be proud of them and Kelly. They've done a great job."
Hawk had 12 points in the first half, hitting all six of her shots, and finished with 20. Jewell and Ashley Burke added 16 each.
"Coming in we had a lot of excitement, a lot of things going on," Hawk said. "Coach kept on reiterating to channel that good energy into the game. I think everybody wanted to do this for our seniors for a going-away present, but we're not done yet."
There will be a rematch Thursday afternoon in the first-round of the WCC tournament in Santa Clara, Calif. The Zags will be trying to win three straight games – which would match Portland's league record of 24 straight wins – to make the NCAA Tournament for the first time.
"We played well, but now they've seen us," Burke said. "We know they'll do something different next time."
The lead was 45-19 by halftime, with the Bulldogs shooting 57 percent.
The only real blemish for the Bulldogs was from behind the 3-point line where they hit just 3 of 17 shots, but their 16 offensive rebounds offset that.
The lead kept building throughout the second half even though Graves made a lot of substitutions. He put seniors Burke, Jewell, Shannon Mathews and Delphine Lecoultre back in the game with just under 4 minutes to play so he could take them out a minute later to a standing ovation from the largest crowd to ever see a WCC women's game.
"I got goose bumps when I came out," Graves said. "What a tremendous environment to play in. This team, those seniors deserve it."
Mathews said, "It was awesome. We were expecting maybe 4,000. We weren't expecting it to be completely full. It's amazing to go from maybe a hundred fans to now. We played well. There are things we could have done better, but everybody was energized."
The Bulldogs shot 51 percent and out-rebounded the Pilots by 21.
"We were very loose before the game," Graves said. "To be honest, I didn't have the greatest of feelings but my staff was really confident. We put it together at both ends tonight. I was very proud of that.
"I knew we were going to be a good basketball team," he continued. "I wasn't afraid to tell anybody. In my wildest imagination I did not think up to this point – and it is up to this point – we would have done what we've done. That is a surprise. That's a credit to that group."
Gonzaga 81, Portland 35
Portland (6-21, 1-13)–Bermingham 1-5 1-2 3, Medley 5-10, 2-2 12, Botto 2-12 3-5 7, Grant 4-13 4-7 13, Fernanadez 0-3 0-0 0, Owens 0-0 0-0 0, Stratton 0-1 0-0 0, Rowe 0-0 0-0 0, Sauer 0-3 0-0 0, Oakland 0-0 0-0 0. Totals 12-48 10-18 35.
Gonzaga (25-2, 14-0)–Burke 8-12 0-2 16, Jewell 5-7 4-4 16, Hawk 8-10 4-4 20, Mathews 2-11 1-2 5, Laney 1-2 0-0 2, Harris 0-2 0-0 0, Kane 1-2 0-0 2, Ridenour 3-5 3-3 10, Enius 0-3 0-0 0, Prichard 0-1 0-0 0, Bailey 4-8 0-0 8, Lecoultre 1-2 0-0 2. Totals 33-65 12-15 81.
Halftime–Gonzaga 45, Portland 19. 3-point goals–Portland 1-13 (Grant 1-7, Bermingham 0-1, Medley 0-1, Botto 0-1, Sauer 0-1, Fernandez 0-2), Gonzaga 3-17 (Jewell 2-4, Ridenour 1-2, Hawk 0-1, Harris 0-1, Mathews 0-9). Fouled out–Bermingham. Rebounds–Portland 27 (Botto 7), Gonzaga 48 (Hawk 8). Assists–Portland 1 (Medley 1), Gonzaga 17 (Mathews 5). Total fouls–Portland 14, Gonzaga 16. A–5825.
Local journalism is essential.
Give directly to The Spokesman-Review's Northwest Passages community forums series -- which helps to offset the costs of several reporter and editor positions at the newspaper -- by using the easy options below. Gifts processed in this system are not tax deductible, but are predominately used to help meet the local financial requirements needed to receive national matching-grant funds.
Subscribe to the sports newsletter
Get the day's top sports headlines and breaking news delivered to your inbox by subscribing here.
---