News > Spokane
City weathers a tough 2004
Mon., Jan. 3, 2005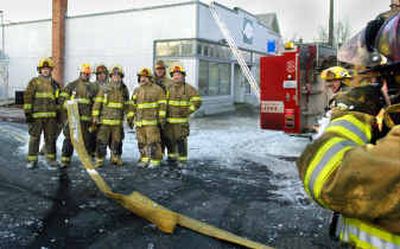 Shane Sanders left his final shift as a Spokane city firefighter last week and headed home to his wife, three children and an uncertain future.
He was among 28 city firefighters laid off last week as part of $17 million in budget reductions across Spokane city government. The fire department took the brunt of some 40 city layoffs as officials sought to balance higher labor costs against sluggish tax revenue for 2005.
The goodbyes to Sanders and the others were the last chapter to a difficult year in Spokane city government, a year marked by the arrival last January of Mayor Jim West and four freshmen City Council members.
In 2004, city officials approved settlements in the ongoing dispute over the River Park Square parking garage; won voter approval of a $117 million street improvement bond issue; settled employee salary pacts; and adopted ordinances requiring bicycle helmets and banning transient camps.
Midway through it, the city mourned the loss of a wastewater treatment plant worker killed in an accidental tank failure on May 10.
The year-end layoffs of five officers in the police department could have been worse.
Police Chief Roger Bragdon is using $1 million from his vehicle replacement fund to maintain a dozen or more officer jobs. He said he is concerned about the department's ability to keep up with a crime rate that rose by 13 percent in the first six months of 2004. But he will have to find a new way to pay for police cars in the future if he hopes to avoid more personnel cuts.
Layoffs were only part of the reductions. Nearly 150 jobs were cut across city services, including 52 firefighter and 20 police officer positions. Early retirements and vacancies helped reduce the ultimate number of layoffs. Neighborhood branch libraries will be open only two or three days a week this year.
The impact on public safety remains to be seen. Sanders and other firefighters said the reduced staffing will result in slower response times to some emergency calls, and could risk the safety of firefighters at serious fires.
"It's a huge safety concern," said Sanders, who is 14th on the list of firefighters who could be rehired if openings come up in the future.
'Beyond its means'
Sanders said he's been looking for another fire position, and the search has led him as far away as Alaska and Montana. But for every opening, there may be hundreds of applicants, making the chance of landing a job difficult. In the meantime, he said he plans to continue taking paramedic certification classes to improve his job skills.
He said he is angry about losing a job he once thought would be his career.
He blames the Cowles family for getting the city embroiled in the costly financial mess at the River Park Square parking garage. Development corporations that own and operate the mall are affiliates of Cowles Publishing Co., a family business that owns The Spokesman-Review and other media outlets.
He said West shares the blame for ignoring the public's desire for strong fire and police services, and the City Council for failing to stand up to the mayor.
"Apparently, the city doesn't manage its money very well," Sanders said.
Indeed, West said that when he took office last year, the previous mayor and City Council had agreed to spend a multimillion-dollar cash balance without holding back enough money for pending labor contracts. Those contracts and the retroactive salary payments associated with them forced the city to borrow money temporarily twice last year just to make its payroll between semiannual property tax receipts.
"Spokane has been living a lie for a long time," West said last week. "It's been living beyond its means."
West said the city's ability to get control of its budget, despite layoffs, was one of the reasons Standard & Poor's upgraded the city's bond rating from BBB to AA- last month. The improved rating will save taxpayers about $200,000 initially in borrowing costs for bonded street improvements.
Another reason the financial ratings agency upgraded Spokane's bonds was the pending settlement of the River Park Square dispute.
The city has agreed to relinquish its claim of ownership to the garage in exchange for a guarantee by Cowles Publishing Co. to make payments on a $22.65 million community development loan obtained through the city and federal government for reconstruction at the mall in the late 1990s. The loan was backed by the city's community development block grants for low-income residents and neighborhoods.
The garage settlement came amid disclosure by the mall owners that they were considering bankruptcy protection, which would have left the city's block grant program on the hook for a greater share of the loan repayments, city officials said.
Settlement debate
Critics lambasted the deal as a giveaway to developers.
During deliberations on the settlement on Dec. 11, the rhetoric reached a climax when Councilman Al French said he felt "I have a gun to my head" because of the threat of bankruptcy by the Cowles' development corporations.
Councilwoman Cherie Rodgers, who consistently has opposed the RPS settlement, said the Cowles family got the garage and "we have nothing to show for it." She said that West – as well as his predecessor, former Mayor John Powers – didn't have the stomach to go after the Cowles family media businesses for a greater share of losses at the garage.
Now, more than $1 million a year will be taken from the general fund to pay for losses left over from the sale of $31.5 million in municipal bonds in 1998. The bonds were sold to finance a public-private acquisition of the mall garage.
West said he wanted to stop the city's financial bleeding over River Park Square. City legal fees had risen to $3 million, and the city's parking meter fund was being escrowed at $1.8 million a year for eventual reimbursement to the developer for operating losses at the garage.
"It was sapping not only money, but time and energy," West said. He expects the settlement to result in a net gain to the annual general fund.
When he took office a year ago, the mayor said he consulted a retired federal judge about RPS. The judge, who has experience in securities law, advised West to seek settlements as quickly as possible, West said.
Elsewhere in city of Spokane government, the mayor said he believes the city enjoyed a series of important accomplishments in 2004, including voter approval of the street repair bond. He said he believes he made progress in building public trust in city government.
West also has worked to improve morale among city workers, although layoffs left police and fire department officers concerned about the city's commitment to public safety.
"We've got to find a long-term solution to fund public safety," Sgt. Chuck Reisenauer, president of the Spokane Police Guild bargaining unit, said in an interview last month.
The guild and the firefighters' Local 29 are expected to push next year for a ballot measure asking voters to approve an excess property tax levy to enhance funding for police and fire services.
Rodgers said she offered a combination of budget cuts and a small city utility tax increase to pay for more fire and police officers, but her ideas were rejected. She would have reduced spending for economic development and a health-care program for low- and moderate-income residents.
Council members instead raised fees on cable television by 5 percent.
"They (the mayor and other council members) need to learn how to say no" to special-interest budget requests, Rodgers said.
Shuffling the staff
West won one of his major budget initiatives with council approval of hiring of an economic development director. John Pilcher of Conover Bond Development firm of Spokane was confirmed by the council on Dec. 20 to take the job.
West is reorganizing part of his planning department, historic preservation and some existing economic development staff into a single city division, which will be geared to smoothing the path for commercial and residential growth in the city.
Economic development is widely seen as a way for Spokane to shore up its ongoing budget problems. New development not only brings its own tax revenue, but also has the potential for lifting the value of taxable property and increasing retail sales.
"Basically what this year (2004) has been about is laying the foundation for the city's growth," West said.
Council President Dennis Hession closed last week's council meeting by thanking city staff and fellow council members for their hard work. "This has certainly not been an easy year for you or for us," he said, listing major accomplishments.
"All in all, it's been an amazing year," Hession said. "Perhaps '05 will be easier. I suspect not."
Local journalism is essential.
Give directly to The Spokesman-Review's Northwest Passages community forums series -- which helps to offset the costs of several reporter and editor positions at the newspaper -- by using the easy options below. Gifts processed in this system are not tax deductible, but are predominately used to help meet the local financial requirements needed to receive national matching-grant funds.
Subscribe now to get breaking news alerts in your email inbox
Get breaking news delivered to your inbox as it happens.
---