News > Business
Deals target backseat video players
Thu., Jan. 6, 2005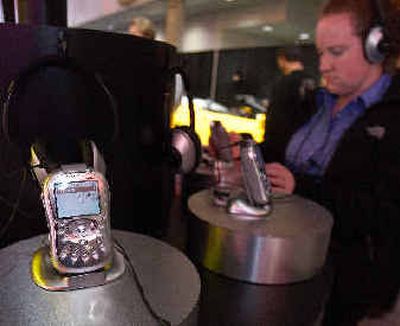 LAS VEGAS — Two pairs of companies are developing in-car video systems geared at making it easy for consumers — and perhaps more importantly, their kids — to access and view television programming on the go.
Sirius Satellite Radio Inc. and auto parts maker Delphi Corp. unveiled separate deals Wednesday aimed at giving users more programming choices when they fire up their backseat video displays.
Currently, most video units in cars, minivans and sport-utility vehicles only play DVDs or connect to video-game consoles, but one analyst said streaming television broadcasts have become feasible as more vehicles sport gadgets using satellite technology such as GPS navigation and dashboard computers.
"For over a year now we have anticipated the introduction of video solutions using satellite," said Phil Magney, principal analyst with Telematics Research Group. "That has been in the cards for a while and is a natural evolution of the technology."
With help from Microsoft Corp., New York-based Sirius is moving ahead with plans for a video companion to its premium satellite radio service, which currently airs commercial-free music and talk-radio programming for a monthly fee.
Under the agreement, announced at the International Consumer Electronics Show in Las Vegas, Sirius said it will use Microsoft's Windows Media Video 9 software and work with the software giant to jointly develop video applications — eventually extending beyond the car and into the home or personal computer.
Meanwhile, Troy, Mich.-based Delphi forged a deal with cable giant Comcast Corp. to create an in-vehicle system that allows users to select video programming and transfer it to their cars across a wireless connection. Delphi will develop a consumer device capable of downloading and playing content as Comcast explores ways consumers can access television and premium programming both at home and on the road.
Sirius expects to launch its service in the second half of 2006, while Delphi says it will take six to 18 months to evaluate and develop its system.
Neither company said how much it will charge for video service or what kind of content will be available to subscribers, but Sirius — which charges $12.95 a month for access to its 120 radio stations — said it anticipates providing two or three channels of content specifically for children.
"Both of those deals are very compelling," Magney said, adding the market for backseat entertainment products has doubled annually over the past few years.
The analyst estimates the North American attach rate — the proportion of new cars sold with video units — will leap to 24 percent in 2010, up from 9.8 percent last year. Nearly 4 million backseat entertainment devices were sold worldwide in 2004, Magney said.
Sirius' move is the latest attack on rival and industry leader XM Satellite Radio Holdings Inc. Both Sirius and XM are leaning on deals with automakers to offer their receivers as factory- or dealer-installed options as the companies compete for market share and new subscribers.
Although Sirius and XM have the opportunity to capitalize on their relationships with auto manufacturers, Magney said they could see ample competition from Delphi and Comcast, the nation's largest cable provider with almost 22 million customers.
"They're not mutually exclusive," Magney said. "I believe they'll co-exist."
At the close of Nasdaq trading Wednesday, Sirius shares were up 13 cents at $7.64, while XM fell 2.2 percent, or 79 cents, to $34.56. Delphi lost 1.8 percent, or 15 cents, to finish at $8.40, Microsoft slipped 6 cents to $26.78 and Comcast gained 30 cents to $32.39.
Local journalism is essential.
Give directly to The Spokesman-Review's Northwest Passages community forums series -- which helps to offset the costs of several reporter and editor positions at the newspaper -- by using the easy options below. Gifts processed in this system are not tax deductible, but are predominately used to help meet the local financial requirements needed to receive national matching-grant funds.
Subscribe now to get breaking news alerts in your email inbox
Get breaking news delivered to your inbox as it happens.
---