Sports
Bolt out of the past
Sat., Jan. 8, 2005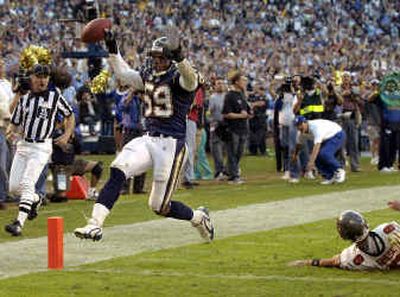 SAN DIEGO — Standing on the sideline last Sunday, San Diego Chargers linebacker Donnie Edwards felt himself having an out-of-body experience.
The Chargers had just scored against Kansas City and the disco song "San Diego Super Chargers" from the Air Coryell era was playing on the P.A.
"For a split moment, I took myself out of reality. I thought, 'Oh, my God, this is me 20 years ago sitting in the stands watching Dan Fouts throwing the ball to Charlie Joiner,' " said Edwards, who grew up in a working-class suburb of San Diego.
"So that feeling is here again, in my eyes. I hope we can continue and get to our ultimate goal, which is the Super Bowl."
Yes, the Bolts are back in the playoffs, having ended one of their characteristic long postseason droughts — the latest lasted eight seasons — and will host the wild-card New York Jets in prime time on what could be a very wet evening tonight.
Just like the heroes of Edwards' youth eventually made way for the Stan Humphries-Natrone Means playoff teams of the mid-1990s, a whole new batch of Chargers are bringing in this playoff era.
Pro Bowlers Drew Brees, LaDainian Tomlinson and Antonio Gates, who powered a high-scoring, exciting offense, will be making their playoff debuts. Edwards will play in just the second postseason game in his nine-year career, the first having come seven seasons ago with the Chiefs.
Tackle Roman Oben and wide receiver Keenan McCardell will play on the same field where they helped Tampa Bay win the Super Bowl two years ago.
Coach Marty Schottenheimer, who helped turn the Chargers from a 4-12 laughingstock into AFC West champions at 12-4, will be looking to do something about that 5-11 postseason record of his.
Back on Sept. 19, the Chargers looked anything like a playoff team when they lost 34-28 to the Jets. Curtis Martin ran for 119 yards and scored on the Jets' first two possessions. Brees had two interceptions, lost a fumble and sustained a concussion.
The Chargers found themselves shortly after that loss and won 11 of their last 13 games, including eight straight. The Jets started 5-0 and then went 5-6 the rest of the way, in part because quarterback Chad Pennington missed three games with a rotator cuff injury and hasn't thrown well since returning.
New York's defense is shaky. The Jets allowed St. Louis' Marc Bulger to pass for 450 yards in a 32-29 loss Sunday.
Local journalism is essential.
Give directly to The Spokesman-Review's Northwest Passages community forums series -- which helps to offset the costs of several reporter and editor positions at the newspaper -- by using the easy options below. Gifts processed in this system are not tax deductible, but are predominately used to help meet the local financial requirements needed to receive national matching-grant funds.
Subscribe to the sports newsletter
Get the day's top sports headlines and breaking news delivered to your inbox by subscribing here.
---