Sports
Bucks outlast Raptors in OT
Sat., Jan. 8, 2005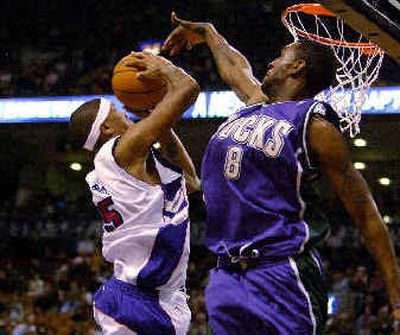 Desmond Mason had 23 points and Michael Redd scored 10 of his 15 points in the fourth quarter as the Milwaukee Bucks beat the Toronto Raptors 107-105 in overtime on Friday night at Toronto.
Jalen Rose sent the game overtime with a driving layup at the buzzer, but Mason had five points in the extra period and Toronto's Morris Peterson missed a potential tying jumper with 1 second left.
Maurice Williams added 22 points for the Bucks, who have won just three of their 15 road games.
Rose and Eric Williams each had 21 points for the Raptors, who are 4-6 since trading Vince Carter to New Jersey on Dec. 17.
Magic 111, Bobcats 91: At Orlando, Fla., Hedo Turkoglu scored 22 points, fellow reserve Pat Garrity added 16 and Orlando beat Charlotte.
Nets 82, Warriors 72: At East Rutherford, N.J., Vince Carter scored 22 points, Richard Jefferson added 20 and New Jersey bounced back from two bad road losses to beat Golden State.
Kings 100, Hawks 97: At Atlanta, Mike Bibby scored 31 points, including a clinching jumper with 11.7 seconds remaining, and Sacramento handed Atlanta its sixth straight loss.
Pistons 110, Celtics 104: At Boston, Richard Hamilton scored 25 points, making two key baskets down the stretch, to help Detroit beat Boston.
Timberwolves 89, 76ers 84: At Minneapolis, Sam Cassell scored Minnesota's first 14 points in the fourth quarter and finished with 26 as the Timberwolves ended a four-game losing streak with a victory over Philadelphia, who played without guard Allen Iverson.
Grizzlies 84, Hornets 76: At Memphis, Tenn., Pau Gasol scored 20 points and Shane Battier added 19 to help Memphis extend its winning streak to six games with a victory over New Orleans.
Bulls 84, Jazz 78: At Chicago, rookie Luol Deng had 22 points and seven rebounds and Eddy Curry added 21 points to lead Chicago to a victory over the Jazz, Utah's eighth consecutive loss.
Heat 103, Trail Blazers 92: At Portland, Miami began its longest road trip of the season by getting double-doubles from Shaquille O'Neal and Dwyane Wade to defeat injury-depleted Portland.
Lakers 111, Rockets 104: At Los Angeles, Kobe Bryant had 27 points and 10 assists and Los Angeles defeated Houston to snap a two-game losing skid.
Around the NBA
The Portland Trail Blazers placed forwards Shareef Abdur-Rahim and Darius Miles on the injured list and activated rookie center Ha Seung Jin. Ha, 7-foot-3 and 305 pounds, becomes the first Korean player in NBA history. … The Sacramento Kings placed point guard Bobby Jackson on the injured list and claimed guard Eddie House off waivers from Milwaukee. Jackson is expected to miss the rest of the regular season after undergoing surgery Monday to stabilize a torn ligament in his left wrist.
Local journalism is essential.
Give directly to The Spokesman-Review's Northwest Passages community forums series -- which helps to offset the costs of several reporter and editor positions at the newspaper -- by using the easy options below. Gifts processed in this system are not tax deductible, but are predominately used to help meet the local financial requirements needed to receive national matching-grant funds.
Subscribe to the sports newsletter
Get the day's top sports headlines and breaking news delivered to your inbox by subscribing here.
---