Eagle Scout designation a Bryan family tradition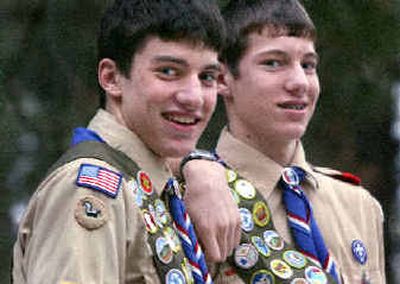 Lucas and Jake Bryan, 17 and 15 respectively, already have a great start for their resumes. The two Coeur d'Alene brothers received their Eagle Scout designation Nov. 27 in a ceremony at Lutheran Church of the Master. They followed their two older brothers, Noah, 27, and Ben, 25, into the rank of Eagle Scout, the highest rank one can achieve in Scouting, and their big brothers attended the ceremony. "It meant a lot coming from their older brothers," said Ann Bryan, the boys' mother. Noah is project manager for a software company in Seattle, and Ben is a mortgage broker in California.
Ann Bryan said that she started her two older sons in Scouting because she thought it would be a fun activity for her sons. She was always a leader when the boys were Cub Scouts.
"I think for any boy that gets involved, it's fun at first; they do things and connect with the group of kids that they are going through it with," she said. "It's that leadership, all the different people that touch their lives as they go through, that really makes a difference. It's wonderful foundational skills that they give them in a great setting with lasting friendships that they'll have, and skills that they'll take through their life."
The Scouting hierarchy begins with Cub Scouts, and boys progress through the ranks of Tiger Cub, Wolf, Bear and Webelos before achieving the Arrow of Light, which carries over to Boy Scouts. Once in Boy Scouts, boys work up from Scout to Tenderfoot, Second Class, First Class, Star Scout, Life Scout, then Eagle Scout. Tenderfoot and Second and First class can be worked on at the same time. Star and Life involve service hours.
To achieve their service hours, the Bryans helped with the bicycle rodeos that the Kootenai County Sheriff's Department sponsors, teaching kids bike safety. They also helped Dr. Terence Neff with free physicals that he does for kids at the beginning of school, measuring their height and weight, and testing them on reading eye charts. Neff serves as scoutmaster for Troop 3 of the Inland Northwest Council.
Scouts must fulfill 11 required elements to attain the Eagle Scout rank. They are first aid, citizenship in the community, citizenship in the nation, citizenship in the world, communications, personal fitness, emergency preparedness or lifesaving, environmental science, personal management, swimming or hiking or cycling, camping and family. There are 10 other elective elements that they also must fulfill.
Lucas chose lifesaving and swimming as two of his required elements. He hopes to be a lifeguard at City Beach. He is a junior at Lake City High School and the captain of the cross country team.
Jake, a Lake City sophomore, chose emergencv preparedness and swimming. Every candidate for Eagle Scout must also do a final project. Lucas supervised the construction of improvements to the discus and shot-put areas at the track and field venue at Coeur d'Alene High School.
"The area was a bunch of weeds and really overgrown," Lucas said. He built benches for athletes to sit on while they wait their turn, and a concrete pad area, plus gravel walkways. Interstate Concrete provided the rock and concrete for the project.
"The purpose of the Eagle Scout project is to show leadership and use all the skills that you've built up during your Scouting time," Lucas said.
Jake built a small footbridge over a little creek and a 140-foot gravel path at the Coeur d'Alene Tree Nursery. He had to have wood, which was supplied by the nursery, and rock,donated by Interstate. The boys also had to serve as a leader of a younger troop. Once the projects are completed and they have all their merit badges, they submit their Eagle packet to the Eagle Board, which meets once a month.
Jake is thinking of entering the military and going into the Judge Advocate General's Corps. Lucas may go into the Marines but would rather go to college. He hopes to get a scholarship based on his cross country skills.
---