News > Nation/World
IRA named suspect in bank heist
Sat., Jan. 8, 2005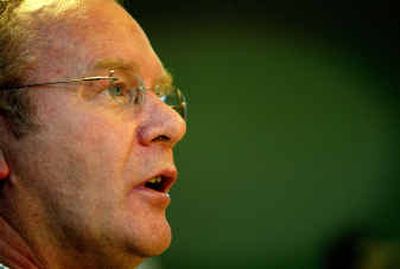 LONDON – An investigator Friday named the Irish Republican Army as the leading suspect in the largest bank heist in British history, an announcement that roiled Northern Ireland's already fragile political peace process.
With $50 million still missing after the military-style job at Belfast's Northern Bank on the evening of Dec. 20, Belfast Chief Constable Hugh Orde has found his investigation embroiled in sectarian politics in the province riven between Protestant loyalists and Catholic nationalists seeking independence.
"In my opinion, the Provisional IRA is responsible for this crime and all main lines of inquiry currently being undertaken are in that direction," Orde told reporters in Belfast. The IRA has denied any involvement.
The development was a serious setback for peace talks, which had been floundering despite a year of high-profile efforts by the British and Irish prime ministers to reconstitute a regional government with both unionist and nationalist representatives.
Orde said the statement was based on analysis of evidence gathered in the investigation, but he declined to reveal details.
He urged the public to assist police and not to romanticize the theft, which involved holding the families of two employees of the bank hostage for a full day before letting them go, traumatized but otherwise unhurt, after the money had been loaded onto a large truck and driven away.
"This was a violent and brutal crime. It was not some Robin Hood effort," Orde said.
Protestant political leaders, who have long detested the IRA and distrusted its allies in Sinn Fein, trumpeted Orde's findings and said it should have an immediate effect on the bid by British Prime Minister Tony Blair and Irish Prime Minister Bertie Ahern to broker a power-sharing arrangement in the province.
Both leaders meanwhile expressed alarm at the finding. Ahern issued a statement calling Orde's comments "a matter of deep concern" and "corrosive of public confidence" in the peace process. Blair's office said he took it "very seriously" and said all sides must be law-abiding if a final settlement in Northern Ireland is to be achieved.
Gerry Adams and Martin McGuinness, the leaders of Sinn Fein, the IRA's political allies, vehemently denied involvement by the IRA, saying the accusers were out to thwart progress toward a power-sharing arrangement.
Adams told The Irish Times: "From the beginning I held the view that the IRA was not involved in that robbery. The IRA has said it wasn't involved. I believe that to be the case." McGuinness said he had talked to the IRA and that the nationalist paramilitary group, which has been committed to a cease-fire since 1997, told him it was innocent.
Nevertheless, rumors of IRA involvement began circulating within hours of the crime, and police investigators have been questioning people in Catholic neighborhoods.
Local journalism is essential.
Give directly to The Spokesman-Review's Northwest Passages community forums series -- which helps to offset the costs of several reporter and editor positions at the newspaper -- by using the easy options below. Gifts processed in this system are not tax deductible, but are predominately used to help meet the local financial requirements needed to receive national matching-grant funds.
Subscribe now to get breaking news alerts in your email inbox
Get breaking news delivered to your inbox as it happens.
---