Sports
Beltran nearly signed, sealed and delivered
Mon., Jan. 10, 2005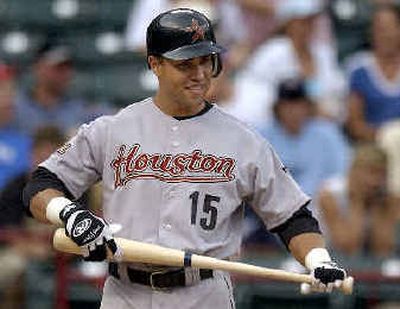 Carlos Beltran is on the verge of following Pedro Martinez to the New York Mets.
A day after the All-Star outfielder let the deadline to re-sign with Houston pass, he reached a preliminary agreement Sunday night on a $119 million, seven-year contract with the Mets that includes an $11 million signing bonus.
"We have good-faith terms, and we're working toward the final agreement," Beltran's agent, Scott Boras said. "We're near the end of the it, but not quite complete."
The Mets, who haven't made the playoffs since 2000, just last month lured Martinez from the Boston Red Sox with a $53 million, four-year deal. They declined comment on their talks with Beltran.
Beltran was due to come to New York for a physical today. The sides intended to announce the deal Tuesday – the last day before a change in federal rules makes signing bonuses subject to increased taxes.
Beltran, who helped Houston come within a victory of its first World Series last year, will became the 10th player in baseball history to agree to a deal worth $100 million or more – and the highest since Jason Giambi got a $120 million, seven-year contract from the Yankees in December 2001.
His average salary of $17 million will tie Houston's Jeff Bagwell for the seventh-highest, trailing only Alex Rodriguez ($25.2 million), Manny Ramirez ($20 million), Derek Jeter ($18.9 million), Sammy Sosa and Barry Bonds (both $18 million), and Jason Giambi ($17.1 million).
Green on his way to Arizona
Arizona and Shawn Green reached an agreement in principle on a three-year, $32 million contract, including a $2-million signing bonus, that would clear the way for the Dodgers slugger to waive his no-trade clause and be dealt to the Diamondbacks.
Green will come to Phoenix for a physical today, Diamondbacks general partner Ken Kendrick said.
The agreement includes a mutual option for a fourth year, with a $2 million buyout should the Diamondbacks decide not to retain Green, Kendrick said.
Green's agreement to waive his no-trade clause would pave the way for a trade that would send him and $10 million from L.A. to Arizona for four minor league players, including catching prospect Dioner Navarro.
Lowe appears headed to Dodgers
Boston Red Sox postseason hero Derek Lowe appeared to be on the verge of joining the Los Angeles Dodgers.
Lowe said from his home in Fort Myers, Fla., he wasn't sure if a deal had been finalized, but he planned to be in Los Angeles today.
"I'm flying to L.A. tomorrow morning, that is all I know," the 31-year-old right-hander said. "I think I'm taking a physical tomorrow."
A physical would be the final step before Lowe and the Dodgers complete a four-year deal worth about $36 million.
Batista to play in Japan
Third baseman Tony Batista will play in Japan next season after hitting 32 homers and knocking in 110 runs with the Montreal Expos last year.
The free agent said the Fukuoka Hawks will pay him $15 million for two years – a $5 million signing bonus in addition to $5 million in each of the next two seasons.
Local journalism is essential.
Give directly to The Spokesman-Review's Northwest Passages community forums series -- which helps to offset the costs of several reporter and editor positions at the newspaper -- by using the easy options below. Gifts processed in this system are not tax deductible, but are predominately used to help meet the local financial requirements needed to receive national matching-grant funds.
Subscribe to the sports newsletter
Get the day's top sports headlines and breaking news delivered to your inbox by subscribing here.
---