Sports
Radmanovic leads Sonics past Heat
Mon., Jan. 10, 2005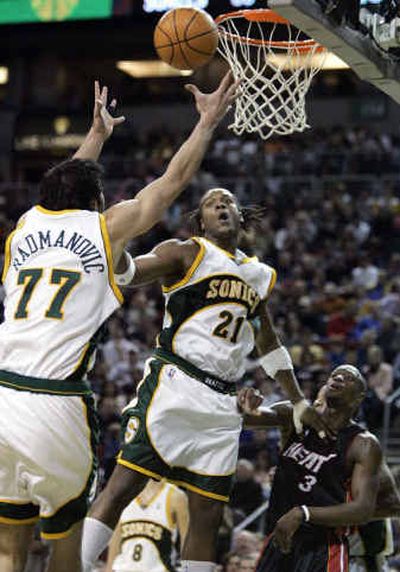 SEATTLE — For one week at least, Shaquille O'Neal and the Miami Heat met their match in Danny Fortson and the revitalized Seattle SuperSonics.
Vladimir Radmanovic scored a season-high 27 points, including 11 in the fourth quarter, and the Sonics beat the Heat for the second time in six days, 108-98 on Sunday night.
The Sonics ended the Heat's franchise-record 14-game winning streak Monday night in Miami.
"It was a physical matchup," Dwyane Wade said of the inside duel between O'Neal and Fortson. "Shaq got the best of that matchup, but the Sonics got the best of the Heat."
Radmanovic hit three of his five 3-pointers in the final period and the Sonics ended a two-game losing streak by outscoring the Heat 13-1 in the final 4:40.
Radmanovic came within two points of his career high and shot 11 for 17, including 5 for 9 from 3-point range, after being limited to a total of 12 points in losses at Washington and Orlando.
"Two games don't mean much during the season," said Radmanovic, a four-year veteran from Bosnia-Herzegovina. "You don't lose your confidence because of just two games. You have to come back and not even think about it."
O'Neal had 28 points, 11 rebounds and five blocked shots for the Heat, who had an eight-game road winning streak broken, but Radmanovic, who had 21 points in the second half, and the Sonics' reserves outscored their Miami counterparts 66-17.
"That's been a big part of our success when we've had the second unit playing well," Sonics coach Nate McMillan said.
Fortson had 18 points and 10 rebounds for the Sonics, who got only 15 points from Ray Allen. Allen had 35 points in Monday night's game.
"You know that doesn't happen a lot," McMillan said of Allen's off night.
Eddie Jones scored 19 points and Wade 16 for the Heat.
Acquired in a July trade with Dallas for center Calvin Booth, Fortson's rebounding and inside toughness have been a major part of the Sonics' success. They won only 37 games last season.
The 6-foot-8 Fortson said he gets extra motivation to play against the 7-1, 325-pound O'Neal.
"You've got to kind of lean a little bit on him, too," Fortson said. "He leans on people so you've got to give him a little bit of the same thing he does. I think at the end of the night, we both were just out there sucking wind."
O'Neal didn't score a point after getting a dunk and a free throw with 7:38 left as Fortson just wore him down.
Local journalism is essential.
Give directly to The Spokesman-Review's Northwest Passages community forums series -- which helps to offset the costs of several reporter and editor positions at the newspaper -- by using the easy options below. Gifts processed in this system are not tax deductible, but are predominately used to help meet the local financial requirements needed to receive national matching-grant funds.
Subscribe to the sports newsletter
Get the day's top sports headlines and breaking news delivered to your inbox by subscribing here.
---