News > Spokane
Some in mobile homes can't escape high rents
Mon., Jan. 10, 2005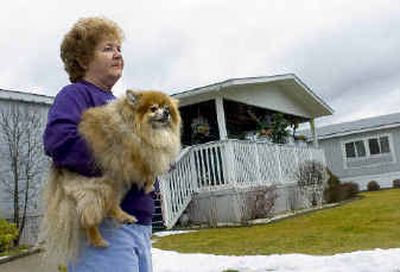 Oil paintings hang in the two-car garage. Flowers and potted plants line the front porch. At night, from her deck, Geraldine Wagner can watch deer cross the field behind her home.
Wagner, a 70-year-old retired typesetter, thought she had found the perfect mobile home at Shenandoah Forest Park, when she bought the 28-foot-wide home on a double lot.
But in her eight years in the park, her rent steadily rose to $560 a month. It was only years after she bought the mobile home, Wagner said, that she and two other single women in the park came to a surprising realization: They were all paying almost twice as much rent as the park's 340 other residents.
"It doesn't seem right," said Wagner, who unsuccessfully sued to have her rent lowered. "Other people have bigger lots and pay less. I've only got one sewer and one water hookup. So why do I have to pay more?"
Washington law and regulations – which are similar to those in Idaho – provide no definition of a double lot or provide any rent control, said Ishbel Dickens, an Equal Justice Works Fellow at Columbia Legal Services in Seattle, and a supporter of new legislation to strengthen oversight of mobile park owners.
"The lot is whatever your rental agreement says," Dickens said. "That's the sad reality: Your rent can be whatever the management company or the owners say."
An attorney for the park said the women signed a contract to rent the double lots, and now they must abide by that agreement. This summer, a Spokane County Superior Court judge agreed, finding "no legal basis" for the women's complaints and dismissing their lawsuit.
"All the tenants knew in advance what they were renting," said Ken Frederick, an attorney for Shenandoah Investments, LLP. "To go back and determine the size of the lots after they accepted it, it's immaterial."
When Wagner and the other women sought to have their rent lowered, they relied on Washington's Mobile Home Landlord Tenant Act. The quarter-century old legislation was designed to protect renters, but much of it has been rendered toothless by lack of enforcement, according to a state official and housing advocates.
For the past six years, a single investigator has handled all complaints involving Washington's 250,000 mobile homes, including 13,000 in Spokane County. But the state investigator has no enforcement authority.
"The law is only as good as the enforcement, and there is none," said Teri Ramsauer, manager of the state's mobile home ombudsman's office in Olympia. "We know there's a lot more that we would be able to do if we had more resources."
This year, legislation may change that. Low-income housing advocates are pushing for the revival of a bill that would raise nearly $2.5 million in fees each year to investigate complaints and toughen enforcement. The bill died on the state House floor last year, one of many bills that failed to win approval in the shortened session. The Manufactured Housing Communities of Washington, a statewide association of managers and owners, declined to comment because the legislation has not been brought forward yet.
State housing advocates contend mobile home owners – typically elderly and often low-income – are particularly vulnerable to exploitation. Few attorneys are willing to take the cases because of the relatively meager sums involved, advocates say, and many tenants are poorly informed of their rights. Moving the homes can also be far more expensive than, for example, switching apartments, they say.
"The term 'mobile home' is a misnomer," said Dickens, the Columbia Legal Services attorney. "Once people move in, they are stuck there. They own a home, but not the land under it."
In Spokane County, mobile homes account for 7 percent of all housing stock. In Kootenai County, mobile homes account for twice as much of the available housing, according to the Spokane-Kootenai Real Estate Committee's 2004 report. Idaho has no rent control, and the rental agreement has broad and binding authority, which may contain clauses that "modify or supplement" Idaho law, according to a guidebook published by the state's attorney general.
"Manufactured housing is basically the last bastion of affordable housing," said Fred Jones, president of the Mobile Home Owners of America Inc., a Washington nonprofit association of 1,600 households. "If we do not make the park's owners obey the law, they can take advantage of these people."
Low-income housing advocates have cited the Spokane case, despite the fact that it was dismissed by the county court. The women argue that if they do not have protection under the law, it is because the laws and enforcement are inadequate.
The women spent several thousand dollars to hire an attorney, rather than pursuing mediation through the state office – which all parties must agree to.
"If they refuse to mediate," said Ramsauer, the manager of the ombudsman's office, "we send a letter saying, 'Enclosed is a list of no-cost or low-cost legal help. Good luck.' That's where we close the case. It's all we can do."
The women said their rents scared away potential buyers, particularly when they could buy a nearby home and pay a fraction of the rent.
Wagner estimated that since purchasing her home eight years ago, she has paid Shenandoah about $45,000 in rent. She tried to sell the mobile home but several potential buyers balked at the price.
"I've had several people look at it, but when I told them what the rent was, they said, 'Oh, forget it,' " Wagner said. She said the lot line runs through her house so she can't return one of the lots without losing half her home.
In a July 19, 2004, letter to Wagner, Peter Moesslang of Shenandoah Investments declined Wagner's request to lower the rent.
"I must say once again that the size of the lots has never determined a varying monthly lot rental amount," Moesslang wrote. "All residents who chose to rent double lots were aware of the additional rent upon the signing of their rental agreements."
Several streets away, Nancy Arnold, a 77-year-old retired church secretary, concedes she agreed to rent the double lot, but said that the price increased without any negotiation. In written notices to homeowners, the park said it was raising the rents to make them comparable to other area parks.
"This is one of the nicer mobile home parks in the area," said Frederick, the park's attorney. The rental rates of $300 for a single lot, he said, are "commensurate with (other) mobile home parks in the region."
Arnold tried to sell her home for a decade, but to no avail. Arnold's home sat on one lot; on a second lot, she built an $8,000 garage with a workshop, she said. This year, after the lawsuit ended, Arnold gave away the second lot and her garage in exchange for rent relief.
"The manager came around and said, 'We'll take that second lot off your hands if you give us the garage for free,' " Arnold said. "They immediately put another mobile home on it."
Pat Herberholz, a 76-year-old widow, said her home has an additional water hookup, but she has never used it. She receives her deceased husband's firefighter pension but said it would cost several thousand dollars to move the home she bought a decade ago.
"I just can't afford that," she said. "I'm stuck."
Local journalism is essential.
Give directly to The Spokesman-Review's Northwest Passages community forums series -- which helps to offset the costs of several reporter and editor positions at the newspaper -- by using the easy options below. Gifts processed in this system are not tax deductible, but are predominately used to help meet the local financial requirements needed to receive national matching-grant funds.
Subscribe now to get breaking news alerts in your email inbox
Get breaking news delivered to your inbox as it happens.
---