News > Features
Under that hair, Cabrera is still one smart cookie
Mon., Jan. 10, 2005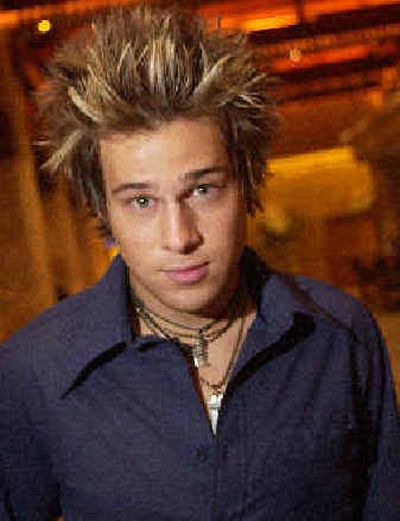 He's best known as Ashlee Simpson's ex, but Ryan Cabrera was pursuing a singing career long before he began dating her.
The Dallas native got his big break in 2002 when his voice teacher – the one who trained Jessica Simpson – introduced him to her father and manager, Joe Simpson.
The 22-year-old guitarist and songwriter eventually signed with Atlantic Records, which introduced him to John Rzeznik of the Goo Goo Dolls, who co-produced his debut album, "Take It All Away."
The teen heartthrob's song "On the Way Down" climbed the charts, and his album reached No. 8 on the Billboard 200.
Now the bleach-blond singer is on his first headlining tour, where we caught him scouting around for cookies for energy:
Q. Do you still talk to Ashlee?
A. Oh, of course. We hang out. I don't get very much time off, but if I get a day off, then we spend it together. We just keep it as friends, just so that way no one gets hurt.
Q. What did you think of her lip-synching incident on "Saturday Night Live"?
A. She didn't want to sing to the track, never done it before, but as an artist, sometimes the road is hard, you lose your voice and you just can't help that and she did. It was just a sad misfortune that people blew out of proportion.
Q. What was it like opening for her sister, Jessica Simpson?
A. That was a fun tour, not only because being so close to family and being friends with her, but the crowds were great.
Q. What is it like being managed by their dad, Joe Simpson?
A. It's fun for me because I get to work with people I love.
Q. How is it different being the headliner?
A. I get to play as long as I want to.
Q. Are you doing anything different to get ready?
A. Not really, just eat a lot of cookies. Any kind will do, chocolate chip preferably, but I just got down on some peanut cookies that did the job, so I'm ready to play now.
Q. How do you get your hair to defy gravity like that?
A. That's a mixture of lots of Bed Head products and lots of "sleep on it."
Q. What's it like to be a teen heartthrob?
A. I'm just a dorky guy who plays guitar and stands on stage and has fun and loves to write music and sings songs.
Q. How would you describe your sound?
A. It's musical and organic but still radio friendly at the same time. It's kind of like a mix of John Mayer and Matchbox 20.
Q. Is there a method behind your music?
A. It's all about getting as many people to hear the record as possible. Anything I can do to spread the word. … I still bring demos of my record around with me everywhere in case I meet someone in the airport or in the mall … Even though the record went gold in like a month, I act like it hasn't sold anything.
The birthday bunch
Singer Frank Sinatra Jr. is 61. Singer Rod Stewart is 60. Singer Donald Fagen (Steely Dan) is 57. Singer Pat Benatar is 52. Singer Shawn Colvin is 47. Singer-guitarist Curt Kirkwood (Meat Puppets) is 46. Singer Brad Roberts (Crash Test Dummies) is 41. Actress Trini Alvarado is 38. Guitarist Matt Roberts (3 Doors Down) is 27. Rapper Chris Smith (Kris Kross) is 26.
Local journalism is essential.
Give directly to The Spokesman-Review's Northwest Passages community forums series -- which helps to offset the costs of several reporter and editor positions at the newspaper -- by using the easy options below. Gifts processed in this system are not tax deductible, but are predominately used to help meet the local financial requirements needed to receive national matching-grant funds.
Subscribe now to get breaking news alerts in your email inbox
Get breaking news delivered to your inbox as it happens.
---