News > Business
Comcast to offer Internet phone service
Tue., Jan. 11, 2005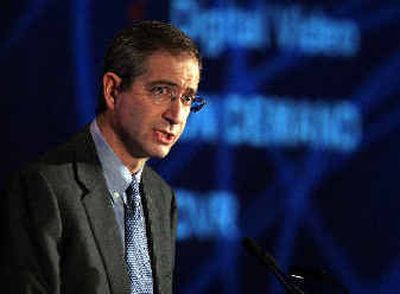 PHILADELPHIA — Comcast Corp., the nation's largest cable television company, plans to challenge local phone companies by offering Internet-based phone service in 20 markets this year, company officials said.
A company spokesman said it's uncertain when Comcast's roughly 97,000 Spokane-area customers will be able to sign up for the service. Only about 15 million Comcast homes are supposed to have the option by the end of 2005, according to a report in the Wall Street Journal.
The Philadelphia-based company plans to offer its Digital Voice technology to all of its markets by 2006. Company officials said they expect to be serving about 20 percent of phone customers in those markets within five years.
"Our initial focus is on getting it right and successfully introducing the service," Comcast chief executive officer Brian Roberts said. "We've already worked out the kinks, and are going to take a very patient approach."
The service will cost $39.95 a month for existing Comcast broadband customers for unlimited local and domestic long-distance calls. It also includes caller ID, voice mail and call waiting. It will cost more for those not already Comcast subscribers.
Rian J. Wren, the general manager of Comcast Voice Services, said he expects Digital Voice to make a profit within two years.
Comcast is the last of the major cable companies to announce plans for voice over cable. Two competitors, Time Warner Inc. and Cox Communications Inc., have already begun offering the service. Plus, numerous other VOIP — voice over Internet protocol — companies have emerged and taken away customers from traditional telephone providers.
Comcast's Wren acknowledged that his company will have significant competition, but noted that Comcast is offering some features that its competitors aren't. For example, Verizon and Vonage don't promise that the phone service will work during a power failure, but Comcast provides a 16-hour battery backup.
Local journalism is essential.
Give directly to The Spokesman-Review's Northwest Passages community forums series -- which helps to offset the costs of several reporter and editor positions at the newspaper -- by using the easy options below. Gifts processed in this system are not tax deductible, but are predominately used to help meet the local financial requirements needed to receive national matching-grant funds.
Subscribe now to get breaking news alerts in your email inbox
Get breaking news delivered to your inbox as it happens.
---