News > Nation/World
Former guards testify in abuse court-martial
Tue., Jan. 11, 2005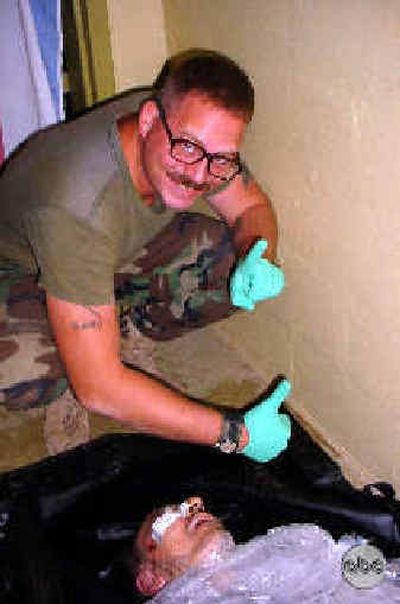 FORT HOOD, Texas – Three former Army guards convicted in the Abu Ghraib abuse scandal described Spec. Charles A. Graner Jr. on Monday as the soldier who most delighted in beating and sexually humiliating Iraqi inmates at the prison compound outside Baghdad.
Their testimony came on the first day of Graner's court-martial and marked the first time that any of the eight soldiers accused of abuse have publicly spoken out against one of their own.
Under Graner's leadership, recalled Pvt. Ivan L. "Chip" Frederick II, "everybody was smiling and carrying on."
The three former guards acknowledged their participation in the abuse as part of plea-bargain agreements last year.
In their testimony, they were highly critical of Graner's conduct, but they also seemed to support his defense that he acted under orders from Army commanders to soften up the inmates so they would cooperate with interrogators.
"The soldiers were laughing, seeming to be having a good time," Pvt. Jeremy Sivits testified. "Cpl. Graner told me, 'Hey, we're just doing what we were told.' "
Appearing before a jury of four Army officers and six enlisted men, the soldiers were serious and somber, in sharp contrast to their grinning, thumbs-up bravado depicted in the now-notorious photographs that emerged last April.
Many of those photos and even a video were projected on a large screen in the courtroom, shown to the jury for long periods of time and without the blurred tiles used by the media to disguise prisoners' exposed genitals or the decomposing face of a dead detainee.
In his opening statement to the jury, Graner's lawyer, Guy Womack of Houston, said that his client merely followed orders to soften up prisoners.
"In the military we issue orders," said Womack, a retired Marine Corps officer. "We give orders. But even if an order is unlawful, it is an absolute defense in this case if Spec. Graner did not know that the order was unlawful."
He contended that the photographs of prisoners naked, stacked, tied to railings and humiliated in sexual positions were proof that Graner was doing to the inmates what military interrogators wanted done.
"Those photographs showed that he followed orders," Womack said. "He did not hide those photographs. They all had digital cameras."
But Maj. Michael Holley, the chief prosecutor, said Graner committed "serious criminal misconduct" at Abu Ghraib, and told the jury that in the "chaotic environment" there was no license to beat and humiliate prisoners.
"There were training problems. There were logistics problems. There were leadership problems. But there also were hard choices that had to be made," Holley said
Holley contended that the evidence would show that Graner made the wrong ones.
Graner, a 36-year-old former corporal, is charged with conspiracy, dereliction of duty, maltreatment of detainees, aggravated assault and indecent acts.
The first of those accused to take his case to a court-martial, he has pleaded not guilty. If convicted on all charges, he faces a maximum sentence of 17 1/2 years.
The session began Monday morning with the government's lead-off witness, Spec. Matthew Wisdom, a military policeman who witnessed the abuse but was not charged.
He described Graner hitting detainees and posing for pictures while the inmates "screamed in pain."
Wisdom said that he was "pretty upset; it made me kind of sick almost." He recalled that Frederick, who in return for his guilty plea was demoted from the rank of staff sergeant and sentenced to eight years in prison, laughed as inmates were forced to simulate sex acts with one another.
Sivits, demoted from the rank of specialist and sentenced to a year in prison, said Graner ordered naked detainees stacked on the floor, where they were stomped and hit in the head.
"Graner was yelling and some photographs were taken," he said.
Sivits said Frederick drew an X on another inmate's chest and punched him there. A third inmate was handcuffed so tightly that Sivits "thought he was going to lose his hands."
In yet another incident, Sivits said, Graner used a nightstick to repeatedly slap a weeping inmate's leg – right where the prisoner earlier had been shot.
"At first I thought it was a normal process, stripping them and stuff," Sivits said. "But I kind of wondered, with striking the inmates and such, whether they were supposed to be doing that."
Frederick, who like Graner worked as a prison guard before being sent to Iraq with the 372nd Military Police Company, an Army Reserve unit, described the night Graner punched the prisoner in the side of the head. Frederick rated the force of the blow at "about an eight or a nine" on a 10-point scale.
Frederick acknowledged that he hit the other inmate in the chest, and said his punch was "about a seven or an eight." He said the detainee "kind of sat down on his knees. It knocked the wind out of him."
Frederick said that none of the prisoners had posed a threat, and none of the soldiers were afraid of them.
A third soldier who pleaded guilty, Megan Ambuhl, also testified against Graner.
She received no prison time but was demoted in rank from specialist to private and was separated from the Army.
Ambuhl said that Graner came up with the idea of using a leather leash to yank a naked prisoner from his cell, and that Graner gave the leash to his girlfriend, Pvt. Lynndie England, to pull the man by his neck while Graner photographed her.
England, who recently gave birth to Graner's son, is awaiting a decision on whether she too will be court-martialed.
Local journalism is essential.
Give directly to The Spokesman-Review's Northwest Passages community forums series -- which helps to offset the costs of several reporter and editor positions at the newspaper -- by using the easy options below. Gifts processed in this system are not tax deductible, but are predominately used to help meet the local financial requirements needed to receive national matching-grant funds.
Subscribe now to get breaking news alerts in your email inbox
Get breaking news delivered to your inbox as it happens.
---