Sports
Manning wins MVP for 2nd consecutive season
Tue., Jan. 11, 2005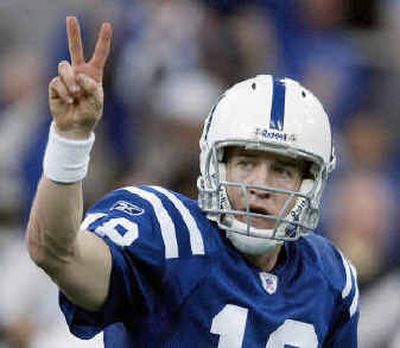 INDIANAPOLIS — Peyton Manning is going where few have gone before, rubbing elbows with the NFL's truly elite, the select few who have been singled out as the Associated Press Most Valuable Player more than once.
As expected, Manning picked up the league's most prestigious individual honor on Monday in a vote by a national panel of sports writers and broadcasters.
The Indianapolis Colts' record-setting quarterback shared the award with Tennessee quarterback Steve McNair a year ago, but there was no suspense this time. Manning became just the third player since the award's inception in 1957 to win it in consecutive seasons.
The inevitable was nearly unanimous. The 48-member panel funneled 47 votes to Manning, one to Atlanta quarterback Michael Vick.
Manning is just the seventh multiple winner, the first since Green Bay quarterback Brett Favre in 1995, '96 and '97. Three of the five two-time winners are in the Pro Football Hall of Fame: Johnny Unitas, Joe Montana, Jim Brown. A fourth, Steve Young, is eligible for enshrinement with the Class of 2005.
Manning's legacy remains a work in progress: seven seasons, 112 regular-season games, seven postseason starts. His resume includes NFL single-season records for touchdowns (49) and passer rating (121.1), each registered while leading the Colts to a second straight 12-4 record and AFC South championship.
But if the company he's keeping as a multiple MVP is an indicator of what's to come, the Pro Football Hall of Fame needs to reserve a room.
"For some players," Colts' owner Jim Irsay said, "there is a special room upstairs at the Hall of Fame where they reside. Peyton's starting to make that case to be in that rarified air of achievement.
"And the good news is this is just his seventh year. Quarterbacks play a long time."
Manning is the fourth Colts' quarterback to be named MVP, joining Unitas (1964, 1967), Earl Morrall (1968) and Bert Jones (1976). Overall, he's the 25th different quarterback. Of the latter group, eight have their busts on display in Canton, Ohio, and two others – Young and Dan Marino – likely will be added when the Class of 2005 is determined on Feb. 5.
"I'm very humbled just to be on that list with some of the other two-time winners," Manning said. "Just hearing some of those names makes it even more special.
"I've always thought of myself as … someone who appreciates the history of the game, and some of those names on that list – I don't feel like I belong in that company."
Irsay disagreed. He invested a $34.5 million signing bonus in early March to make Manning a Colt for life. He considered it a wise investment at the time. Manning's methodical sweep of major individual honors, coupled with the team's continued success, only reinforces Irsay's belief in his quarterback.
"It's really incredible when you look at the athletes in our league," Irsay said. "You talk about how hard it is just to make the Pro Bowl."
Manning has been selected to his fifth.
"Then you talk about how hard is to make All-Pro."
Manning did, a unanimous first-team selection.
"Then you talk about how hard it is to be the offensive or defensive player of the year."
Last week, Manning was the unanimous choice as Offensive Player of the Year.
Now, MVP.
"When you are the MVP, and you are the MVP by such a landslide," Irsay said, "it"s something that is quite unprecedented."
Local journalism is essential.
Give directly to The Spokesman-Review's Northwest Passages community forums series -- which helps to offset the costs of several reporter and editor positions at the newspaper -- by using the easy options below. Gifts processed in this system are not tax deductible, but are predominately used to help meet the local financial requirements needed to receive national matching-grant funds.
Subscribe to the sports newsletter
Get the day's top sports headlines and breaking news delivered to your inbox by subscribing here.
---