News > Business
Patients not told of research conflicts
Tue., Jan. 11, 2005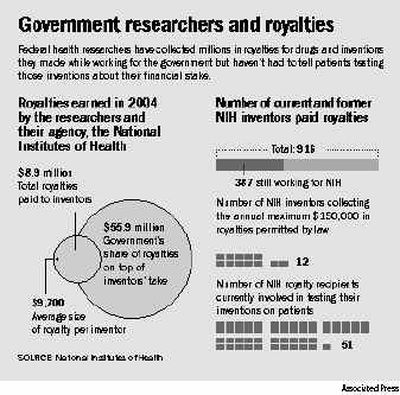 WASHINGTON — Government scientists have collected millions of dollars in royalties for experimental treatments without having to tell patients testing the treatments that the researchers' had a financial connection, according to documents and interviews.
The personal royalties are legal, though the researchers developed the treatments at government expense. But the Health and Human Services Department promised in May 2000 that scientists' financial stakes would be disclosed to patients, a pledge that followed an uproar over conflicts of interest and mistakes in federal experiments.
The National Institutes of Health says it didn't implement a policy to order the disclosure until last week, shortly after The Associated Press filed a Freedom of Information Act request.
"Quite frankly, we should have done it more quickly. But as soon as Director (Elias A.) Zerhouni found out about it, he ordered it done immediately," NIH spokesman John Burklow said.
The nearly five-year delay means hundreds, perhaps thousands, of patients in NIH experiments made decisions to participate in experiments that often carry risks without full knowledge about the researchers' financial interests.
"It's hard for patients to make an informed decision when they don't have all the information," said Bill Allison of the Center for Public Integrity, which monitors the ethics of government employees.
"When a doctor says, 'Here, try this experiment, it is safe, or it will help,' and the patient isn't aware he has a financial interest in the outcome of that treatment, it in essence is taking advantage of someone by not letting them have all the information," Allison said.
In all, 916 current and former NIH researchers are receiving royalty payments for drugs and other inventions they developed while working for the government, according to information obtained by AP. They can collect up to $150,000 each a year, but the average is about $9,700, officials said.
In 2004, these researchers collected a total of $8.9 million. Only a dozen received the legal maximum.
The government owns the patents and the scientists are listed as inventors so they can share in licensing deals struck with private manufacturers. In addition to the inventors' take, the government received $55.9 million in royalties for the same inventions and put that money back into research.
The arrangements can create concerns about conflicts.
For instance, two top managers in NIH's infectious disease division have received tens of thousands of dollars in royalties for an experimental AIDS treatment they invented.
At the same time, their office has spent millions in tax dollars to test the treatment on patients across the globe, the records show.
Local journalism is essential.
Give directly to The Spokesman-Review's Northwest Passages community forums series -- which helps to offset the costs of several reporter and editor positions at the newspaper -- by using the easy options below. Gifts processed in this system are not tax deductible, but are predominately used to help meet the local financial requirements needed to receive national matching-grant funds.
Subscribe now to get breaking news alerts in your email inbox
Get breaking news delivered to your inbox as it happens.
---