News > Spokane
Locke focuses on positive
Wed., Jan. 12, 2005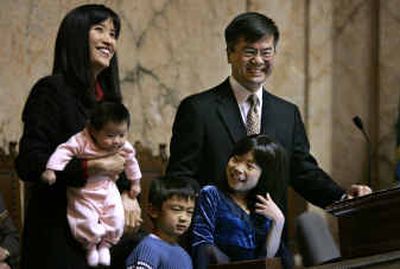 OLYMPIA – Flanked by his wife and three small children, outgoing Gov. Gary Locke painted a rosy scenario of the state he's turning over to his successor after his two terms in office.
The successor may be in doubt.
Republicans can – and did – disagree with his assessment of the business climate.
Even his fellow Democrats might say he was focusing on the good points of the last eight years and ignoring the tough issues of the years ahead.
But Locke's swan song to a joint session of the Legislature accentuated the positive, as he proclaimed: "We have Washington on track for a brighter future."
And that's despite a tenure that includes an earthquake, droughts, an energy crisis and the aftershocks of the Sept. 11, 2001, terrorist attacks, he said.
For proof of that brighter future, Locke pointed to improved test scores among the state's elementary students and thousands more people attending college. The state's unemployment rate that has moved from among the nation's worst to "close to the national average," he said.
"Washington state is showing clear signs of a strong economic recovery that is broad, deep and all across our state," he said, adding later: "We must continue to cultivate a healthy, dynamic business climate."
The state was ranked highly by the Small Business Entrepreneurial Council and Tax Foundation for its business climate, he said. Nine companies have chosen Washington to open new offices.
"And Boeing airplanes still mean 'Made in Washington,' " he added.
That raised some eyebrows among Republicans, who spent much of the last campaign decrying the state's business climate in general, and the decision by Boeing to move its corporate headquarters to Chicago in particular.
"Gary Locke is always going to be talked about as the governor who lost Boeing to Chicago," Rep. John Ahern, R-Spokane, said after the speech.
And while the state may be luring some new businesses, it's not being considered by others like Buck Knives, which has plans to open a facility in North Idaho, Ahern added.
To boost business even more, he said, the state needs to shift the business and occupation tax to net profits instead of gross receipts and get rid of some regulations, he said.
State Sen. Lisa Brown, D-Spokane, said Locke did a good job of accentuating "the positive side of the state."
"It makes sense to say we've accomplished some things," said Brown, the Senate majority leader. "But we've got huge challenges … and he didn't emphasize how big the challenges are."
The Legislature will have to deal with education, growing college enrollment and rising health care costs with limited funding, she said. In the early days of the session, they'll be dealing with that as well as questions over the microscopically close gubernatorial race.
But Locke can be proud of the things he did accomplish, and the fact that he had "a good, scandal-free administration," Brown added.
In the end, the outgoing governor got the loudest, longest applause when he called his wife, Mona, and their three children to join him at the podium, and thanked people across the state for their gifts, cards and letters. Their oldest, Emily, was born shortly after his first inauguration in 1997; son Dylan is almost 6, and Madeline is 2 months old.
He got the titles of governor and father about the same time, eight years ago, Locke said. "One title ends tomorrow. The other lasts forever."
Local journalism is essential.
Give directly to The Spokesman-Review's Northwest Passages community forums series -- which helps to offset the costs of several reporter and editor positions at the newspaper -- by using the easy options below. Gifts processed in this system are not tax deductible, but are predominately used to help meet the local financial requirements needed to receive national matching-grant funds.
Subscribe now to get breaking news alerts in your email inbox
Get breaking news delivered to your inbox as it happens.
---