News > Nation/World
Assassins kill aide to top Shiite cleric
Fri., Jan. 14, 2005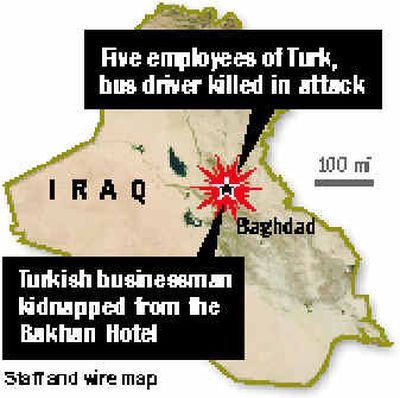 BAGHDAD, Iraq – Ten assailants sprayed gunfire at a minibus picking up a Turkish businessman from a Baghdad hotel Thursday, killing six Iraqis and kidnapping the Turk, who reportedly ran a construction company working with Americans.
The gunmen swarmed the bus as it pulled up to the Bakhan Hotel at dawn to pick up the man, identified by police as Abdulkadir Tanrikulu. The gunmen opened fire, killing the bus driver and five of Tanrikulu's employees, police said. The attackers then sped off with their captive.
It was the latest bloodshed in a surge of violence about two weeks before Iraqis will choose a national legislature in the first election since the collapse of Saddam Hussein's tyrannical rule.
On Wednesday, gunmen killed a representative of Grand Ayatollah Ali al-Sistani, Iraq's most senior Shiite Muslim cleric, along with the aide's son and four bodyguards in a town south of Baghdad, an official in the cleric's office said Thursday.
In a followup attack in the Shiite area, a suicide car bomber attacked a Shiite Muslim community center Thursday in Khan Bani Saad, a market town 18 miles north of the capital Baghdad, killing three people and wounding eight, police said.
Sheik Mahmoud Finjan, al-Sistani's representative in the town of Salman Pak, 12 miles southeast of Baghdad, was shot to death Wednesday night as he was returning home from evening prayers at a mosque, the official said. His son and four bodyguards were also killed, according to the official at al-Sistani's office in the Shiite holy city of Najaf.
The slaying of the cleric's representative was apparently meant as a warning to al-Sistani, who strongly backs the Jan. 30 vote. Rebels have also targeted electoral workers and candidates.
Shiites make up 60 percent of Iraq's 26 million people and are expected to dominate the 275-member National Assembly. Many Sunnis, who make up 20 percent of the population, fear a loss of the influence and privilege they enjoyed for decades. And Sunni clerics have called for a boycott to protest the November assault on the insurgent stronghold of Fallujah.
U.S. and Iraqi officials fear that a low Sunni turnout will cast doubts on the new government's legitimacy.
Egyptian President Hosni Mubarak on Thursday reiterated his call for all Iraqis, including Sunnis, to participate in the Jan. 30 balloting.
"It's very important. And I'm asking all factions to participate," Mubarak said on PBS' "Charlie Rose" show.
The Egyptian leader said his representatives have met with Sunnis to convince them to vote. "They may change their mind," he said, noting that there was still more than two weeks to the election.
Local journalism is essential.
Give directly to The Spokesman-Review's Northwest Passages community forums series -- which helps to offset the costs of several reporter and editor positions at the newspaper -- by using the easy options below. Gifts processed in this system are not tax deductible, but are predominately used to help meet the local financial requirements needed to receive national matching-grant funds.
Subscribe now to get breaking news alerts in your email inbox
Get breaking news delivered to your inbox as it happens.
---