Sports
Cougars cage Oregon State at home
Fri., Jan. 14, 2005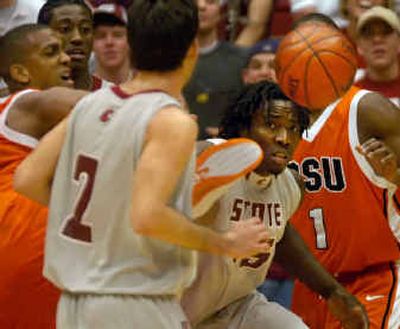 PULLMAN — Back on Friel Court for the first time in 37 days, the Cougars came out and played like they were making up for lost time.
Washington State jumped out to a 15-1 lead and Oregon State didn't hit one field goal until more than six-and-a-half minutes had elapsed. Even a 7-minute, 44-second scoring drought later in the first half couldn't stop the Cougars as they shut down the Beavers and moved to 3-2 in the Pac-10 (8-6 overall) with a 63-45 victory before 3,502 fans.
"We came out really hard defensively in both halves and those were big factors in us being able to hold a bit of a lead," WSU head coach Dick Bennett said. "If you can get the intensity level up on one end of the floor, you can live with mistakes on the other end. At least I can."
The Cougars' defensive intensity was especially focused when it came to stopping power forward David Lucas, one of the league's top players. WSU held Lucas to 12 points, double-teaming him immediately every time he touched the ball along the baseline and forcing him to look for teammates. Without Lucas as a major scoring threat, the Beavers at times looked lost offensively. No other player had more than eight points for Oregon State.
"I didn't feel like I did as well as I need to do," Lucas said. "They were just coming with a hard, strong double right when I got the ball. If I was at the 3-point line and took one dribble in, they were right there."
For the Cougars, the contributions on offense came from a number of players, in part because senior guard Thomas Kelati was in foul trouble for much of the game. Kelati picked up two quick fouls in both halves, and his departure in the first half for 5 minutes coincided with the sudden halt in offensive production.
But a nice adjustment by Bennett and his coaching staff made things a lot rosier for the Cougars when Kelati had to leave with 16:05 left after drawing his fourth foul.
"He got into foul trouble and he's our main go-to guy. We didn't execute (in the first half)," forward Jeff Varem said. "Everybody, we just stopped moving and starting going one-on-one.
"At halftime, the coaches told us what was going on and told us to move and play together instead of going one-on-one. We did that and we won."
Varem was the primary beneficiary in the second half, and he finished as the game's high scorer with 14 points. Thirteen rebounds gave Varem his third double-double of the Pac-10 season, and he also added four steals in yet another statement game that the senior may have turned the corner towards becoming WSU's most consistent threat.
"He kept playing. He doesn't stop playing," said Bennett, who also complimented Varem for his work defensively against Lucas. "Last year he did stop playing when he made a mistake. He'll play through his mistakes, at least so far he has. That's a sign of maturity.
"We had an intense kind of effort pretty much for 40 minutes. … We were very good tonight."
Notes
Before the game, three pedestrians were hit by a car outside Beasley Coliseum. Police officers blocked off a part of Stadium Way, and were still working on their investigation at the scene as fans filed out after the game. A WSU dispatcher said one of the pedestrians was taken to a hospital. … OSU guard J.S. Nash was suspended for the game by John because of a violation of team rules that the coach said took place at the end of last week. … Freshman guard Kyle Weaver, in his third game back in the starting lineup, scored a career-high 12 points on 5-of-7 shooting and had three assists. … Another freshman guard Josh Akognon was just 1 of 8 shooting but pulled down six rebounds in 13 minutes of play.
Local journalism is essential.
Give directly to The Spokesman-Review's Northwest Passages community forums series -- which helps to offset the costs of several reporter and editor positions at the newspaper -- by using the easy options below. Gifts processed in this system are not tax deductible, but are predominately used to help meet the local financial requirements needed to receive national matching-grant funds.
Subscribe to the sports newsletter
Get the day's top sports headlines and breaking news delivered to your inbox by subscribing here.
---