News > Features
Keep a journal for a road map to your garden
Fri., Jan. 14, 2005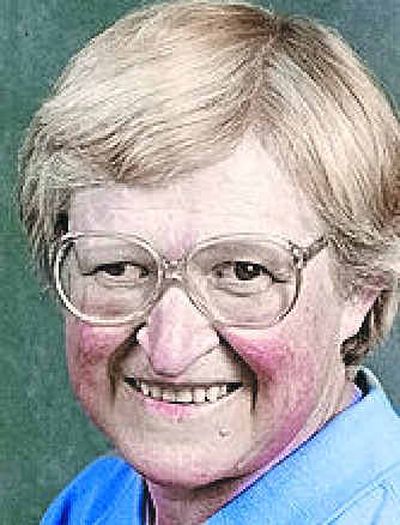 It happens all the time: You really enjoyed a variety of corn or tomato but can't remember the name when planting season comes around again. Same goes for a particularly nice petunia. Or you dig into that bare spot in the garden only to find a dormant perennial was there first. And it's an expensive one.
Keeping a garden journal is an easy solution for this dilemma. A journal can serve as a record of successes and failures, a memory jogger and a mapping system for garden beds. It can be as simple as a little notebook in your tool bucket, or as complicated as a formally bound book or a sophisticated computer database where you can record everything.
Janice Thorson, a Master Gardener who sells produce at local farmers' markets, keeps several journals. She keeps a planting journal where she records the varieties she grows, where she got the seed, cost, catalog description with picture and actual planting and harvest dates. Another one tracks her observations of pests and diseases and how she handled them (she is an organic grower).
"If something doesn't come up or it does really well and I want to go back and get more of the seed, I can easily locate the packet," she says.
One of the most useful and interesting journals she keeps is a 10-year chronicle of weather and related growing information. The journal has a single page for each day of the year with 10 places to record information for each year. Thorson records the daily high and low temperatures, weather conditions, rain totals and other information that lets her look back and see what was happening in past years.
"It's a fun way to look back on a particular day or month in my particular garden," she says.
For example on Dec. 28, 1996, the first year Thorson kept the journal, the temperatures ranged from a high of 17 to a low of 4 and it snowed. The recent introduction of wireless personal weather stations and rain gauges has made Thorson's record keeping much simpler. Now she sits down in the evening and records the information from the gauge sitting on her desk
Susan and Bill Mulvihill, on the other hand, keep a yearly journal as a memory jogger.
"We tend to have a short memory from growing season to growing season," says Susan. They write down their observations on what worked and what didn't, new plants to look for and try, and ideas for projects they pick up from garden tours, talks and articles.
"It gives us a history of our place from its beginnings as a wheat field in 1991," she says, adding that "Bill is always just thrilled to see the new projects list."
Getting into the habit of keeping a journal can be a bit of a challenge. Thorson's husband got her started. "I was not a journal keeper when he gave me the 10 year journal in 1996 and the first year or so don't have much written in it," she says. When Thorson began recording her own temperatures instead of using the National Weather Service data about a year later, she found she wanted to plant her garden according to her microclimate. "I wanted to be aware of what I could pull off." It became a challenge because she found that once she started looking back at her records, she realized how valuable they could be and it spurred her on.
Once you find your personal challenge, use whatever format you are comfortable with. A journal doesn't have to be complicated or formal. It can be as simple as a few notes in a spiral notebook or it can be extremely detailed. Try different systems and see what works for you. A garden journal is what you make of it.
Dottie Bender, a Spokane Master Gardener, developed a coding system that helped her create a shorthand of sorts and an easy way to find notes in her journal.
"I put a symbol like a flower next to the comment so I don't have to go through every little comment in the whole journal to find the notes," she explains.
Now, do you keep a paper-based journal or do you keep your records on computer?
"I wish I still had it," lamented Bender who lost five years of planting and garden records for her ornamental grass garden when her computer crashed five years ago. "I managed to save a couple (records) but that's not very much."
Thorson only recently started keeping computer records for her garden business, but backs up her hard drive regularly. She keeps other journals on paper because it's easy to make notes out in the garden.
The 10-year journal Thorson uses is available from Lee Valley Tools ( www.leevalley.com). The Gardener's Journal: A Ten Year Chronicle of Your Garden not only has dairy space but lots of other handy gardening information including a place to inventory the plants in your garden. The book is hardbound with a durable binding and measures 9-by-11 inches. Cost is $29.95 plus shipping.
Local journalism is essential.
Give directly to The Spokesman-Review's Northwest Passages community forums series -- which helps to offset the costs of several reporter and editor positions at the newspaper -- by using the easy options below. Gifts processed in this system are not tax deductible, but are predominately used to help meet the local financial requirements needed to receive national matching-grant funds.
Subscribe now to get breaking news alerts in your email inbox
Get breaking news delivered to your inbox as it happens.
---