A&E > Entertainment
Oracle Shack jams more music into shorter tunes on new CD
Fri., Jan. 14, 2005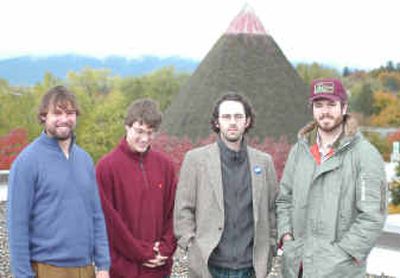 Four years, three bass players and one appendix after Oracle Shack began its quest toward musical innovation, the progressive jam band is finally on the verge of releasing a studio album.
Sure, the artwork isn't finished and the record still needs to be mastered, but by early February the yet untitled album will be available for purchase. That is, barring any mishaps, which is more than can be said for the Moscow, Idaho-based band's previous record – lost after an incident involving the computer housing the recordings.
Initially bummed at the loss of months of work, the band – which will play Saturday at Blue Spark in Spokane – is no longer mourning.
"I think the music (on this album) is 10 times better," said guitarist/vocalist Noah Beck, who had an appendectomy early this month. He does not anticipate the procedure to interfere with the release of the album or his May graduation from the University of Idaho, nearly a decade after he finished high school.
The improvements on the record, Beck says, are due in large part to Ryan Gibler, the band's latest bass player. Gibler, a former member of disbanded Stranger Neighbor who joined Oracle Shack a year ago, encouraged the band to reign in the length of their songs, but he downplays his contribution.
"I just made them shorten up all the parts," Gibler said.
It seems like a small change, but the band sees new potential and freedom in shaving songs down from 20 minutes.
Not that audiences didn't appreciate tunes roughly the length of an average sit-com, but it's a lot easier to make a record when songs hover around the five-minute mark.
"Focusing on a studio album has helped us make these ideas clear and concise," said keyboard/ vocalist Eric Gilbert. "I think our perception of time has changed in a positive way for the audience."
Oracle Shack, which features Cameron Bouiss on drums, is also able to incorporate more songs into their live shows. Expect to hear more than a dozen songs, including selections from the new album, in each of the band's three sets beginning at 9 p.m. Saturday at the Blue Spark.
The band's latest live album, "Boom Boom," recorded in August at Moscow's John's Alley, will be available for purchase.
For more information on Oracle Shack, visit www.oracleshack.com.
Local journalism is essential.
Give directly to The Spokesman-Review's Northwest Passages community forums series -- which helps to offset the costs of several reporter and editor positions at the newspaper -- by using the easy options below. Gifts processed in this system are not tax deductible, but are predominately used to help meet the local financial requirements needed to receive national matching-grant funds.
Subscribe to the Spokane7 email newsletter
Get the day's top entertainment headlines delivered to your inbox every morning.
---