News > Spokane
Plan to put goats in Columbia Gorge draws criticism
Fri., Jan. 14, 2005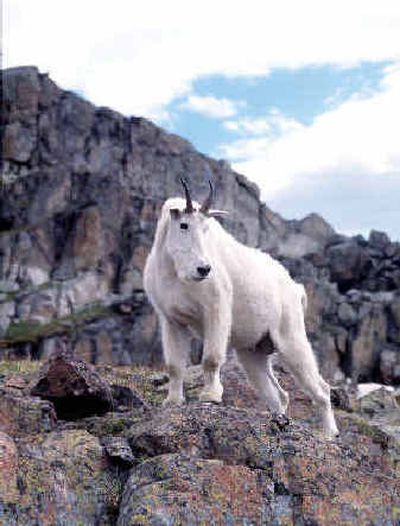 CASCADE LOCKS, Ore. – They say goats will eat darned near anything. And it's that appetite that has some conservationists worried about a plan to reintroduce mountain goats into the Columbia Gorge this summer.
They're afraid that as the goats multiply, they will endanger rare and threatened plants, including some that grow nowhere else. And they say the state Department of Fish and Wildlife is doing too little to assess the risk.
"The results could be horrific," said Russ Jolley, an expert on the gorge's native wildflowers and a member of the Native Plant Society of Oregon.
They point to Washington's Olympic National Park, where a population of non-native goats swelled to more than 1,500 and caused extensive plant losses.
Department of Fish and Wildlife officials say that's unlikely since goats were once native to the gorge.
The journals of Lewis and Clark mention them, and Sgt. Patrick Gass noted in his own journal in September 1805 that "There appears to be a kind of sheep in this country … which have wool on."
What he described was almost certainly a mountain goat. But by the 1840s the goats apparently were gone.
"The number one thing we're looking at is putting a native animal back in its native habitat," said Keith Kohl, a Department of Fish and Wildlife district biologist in The Dalles.
The plan, which still needs approval of the Oregon Fish and Wildlife Commission, is to bring 15-20 goats from Baker County and release them near Cascade Locks.
Since 1950, wildlife biologists in Oregon have carried out more than a dozen releases of mountain goats from Alaska, Washington and Idaho.
Three attempts in the Columbia River Gorge during the 1970s failed.
However, herds have prospered in the northeast corner of the state, in the Wallowa and Elkhorn mountains and Hell's Canyon, with an estimated population of 450.
Oregon allows a limited hunt. Officials last year issued five tags, only to Oregon residents, who are allowed one per lifetime.
Opponents such as Charlotte Corkran, a wildlife consultant in Portland, question whether the goats can readily become a beneficial part of the ecosystem after two centuries of absence.
"Ecological conditions in the gorge are quite different now than they were in the past," Corkran said.
Robin Dobson, a botanist-ecologist with the U.S. Forest Service, said the Forest Service, working with Oregon wildlife biologists, will survey for rare and sensitive plants and monitor the condition of the plants.
Local journalism is essential.
Give directly to The Spokesman-Review's Northwest Passages community forums series -- which helps to offset the costs of several reporter and editor positions at the newspaper -- by using the easy options below. Gifts processed in this system are not tax deductible, but are predominately used to help meet the local financial requirements needed to receive national matching-grant funds.
Subscribe now to get breaking news alerts in your email inbox
Get breaking news delivered to your inbox as it happens.
---