A&E > Entertainment
Raggs turns reggae into personal riches
Fri., Jan. 14, 2005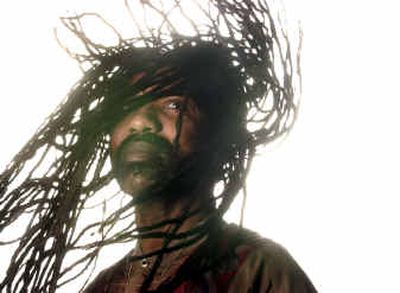 Above everything except for his mother and Jah, local reggae singer Benville "Raggs" Gustaffe values experience.
And he's got tons of it flowing from his toes to the tips of his long, leonine dreadlocks.
Raggs, as he is known, keeps the walls of his home basement studio plastered with photos that tell stories of a lifetime of making reggae music.
One of his most cherished pictures is a scribbled drawing of him and his band drawn by his 11-year-old step-daughter, Ericka, when she was 9.
Pictures also show a 20-something Raggs during the 1980s when he played drums and sang while touring around the world on Carnival cruise ships, along with images of reggae all-stars he knows personally and has worked with over the years as a studio musician in Jamaica, including Yellowman, Sly Dunbar and members of the legendary Marley family.
Raggs, 45, started performing in churches in Jamaica with his mother, Susan Gustaffe, when he was 8.
At age 14, Raggs was playing the hotel circuit in Kingston, Jamaica, with a band of players twice, if not three or four times, his age.
"My father was in his late 70s when I was born, so I grasp on to older people," said Raggs, while his 2-year-old son, Alexander, banged on an electronic drum pad on the floor.
A singer who also could play the drums, Raggs worked as a touring musician in Germany between 1985 and 1987. He then moved to New York to reunite with the rest of his family that had relocated there for a better quality of life.
Things got slow for Raggs in New York around 1991, and he found his way here when a cruise ship acquaintance from Spokane suggested he visit.
Since then he's started his own label and formed a reggae/R&B band, Bush Doktor, a rotating cast that includes drummer Juan Parris, guitarist Andrew Sacksville-West, bassist Ramiro Vijarro and percussionist John Gardner.
Catch Raggs and Bush Doktor on Saturday at 9 p.m. at Far West Billiards, 1001 W. First Ave. No cover.
Local journalism is essential.
Give directly to The Spokesman-Review's Northwest Passages community forums series -- which helps to offset the costs of several reporter and editor positions at the newspaper -- by using the easy options below. Gifts processed in this system are not tax deductible, but are predominately used to help meet the local financial requirements needed to receive national matching-grant funds.
Subscribe to the Spokane7 email newsletter
Get the day's top entertainment headlines delivered to your inbox every morning.
---