A&E > Entertainment
Rap fans long for Wilder days
Fri., Jan. 14, 2005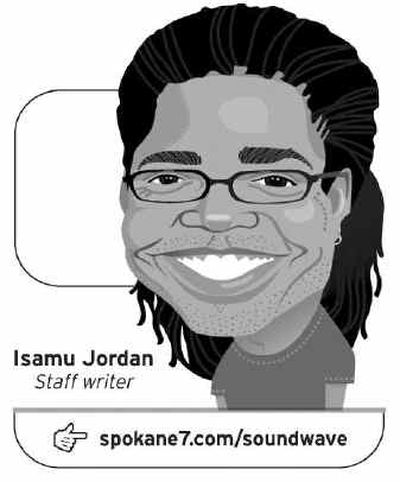 Growing up in Spokane, I couldn't help but get used to the prevailing conservative attitude and utter lack of diversity – particularly when it came to music, especially hip-hop.
Prior to Sir-Mix-A-Lot bringing his posse in 1990 to the Spokane Arena (then the Coliseum), national rap acts avoided Eastern Washington like a bill collector.
When I was younger, my cousins from Seattle and Portland were appalled that we didn't get BET (Black Entertainment Television) on cable. That was before MTV dedicated a whole half-hour a day to hip-hop via "Yo! MTV Raps." If it weren't for the Internet, I still might be relying on the tapes of recorded rap radio and videos my cousins would send in the mail out of sympathy.
With the exception of the occasional breakthrough hip-pop single from the likes of MC Hammer, Vanilla Ice, Salt 'N' Pepa and Tone Loc, Spokane airwaves remained rap-free through most of the '90s.
Spokane hip-hop listeners in 2001 finally had a place to go on the FM dial when KYWL-FM (Wild 103.9) launched as Spokane's only all hip-hop station. After an about-face from classic rock to hip-hop, Wild more than doubled its audience. Since then, KZZU-FM (Zoo 92.9) has beefed up its playlist with rappers such as 50 Cent and Snoop Dogg.
With Wild you could hear current hip-hop hits with the turn of a dial. It offered edgier talk radio through popular Seattle syndicated shock-jock "T-Man" Rob Tepper. Plus it helped foster local hip-hop with a new live local hip-hop night at Fat Tuesday's and provided work for deserving Spokane hip-hop deejays such as Parafyn, who otherwise might be left to play Kool and The Gang at weddings and office parties.
Alas, it was too good to last.
Given Spokane's track record for supporting hip-hop, it was hardly a surprise when KYWL-FM (Wild 103.9) suddenly switched its format in late December from hip-hop and R&B to the amorphous "'80s, '90s and Whatever" profile of Bob FM.
In Bob FM, the jockless station plays thousands of songs in no particular order – a mix of old and new music by artists including U2, Dido, Huey Lewis and Belinda Carlisle – but little, if any, hip-hop.
Typical of commercial radio, the style of hip-hop on Wild catered to the TRL crowd, plenty of Nelly, Chingy, Jay-Z and other bling blingin' club-happy fantasy-'hood rap that is void of political consciousness or relevance. But at least hip-hop, in some form, was getting a chance on mainstream radio, and thus adding some iota of diversity to the airwaves.
During a time when rap is finally embraced by the mainstream and is arguably the most popular music in America, for once Spokane wasn't a decade behind the trend.
So why then did a station that seemed to be obese with popularity abruptly fold and change its colors back to the safer, oh-so-Spokane, '80s-heavy pop-rock? Through a lack of advertising.
"The listener acceptance was huge in Spokane, but the business community did not support it," Jim Votaw, vice president of Citadel in Spokane, which owns the station, said in a news release.
Wild may not have clocked the advertising dollars it needed to stay on the air, but it succeeded in connecting with a younger population, which the majority of Spokane radio often neglects.
At the very least, during its three years on the air, Wild made Spokane sound a little less pro-mullet.
Local journalism is essential.
Give directly to The Spokesman-Review's Northwest Passages community forums series -- which helps to offset the costs of several reporter and editor positions at the newspaper -- by using the easy options below. Gifts processed in this system are not tax deductible, but are predominately used to help meet the local financial requirements needed to receive national matching-grant funds.
Subscribe to the Spokane7 email newsletter
Get the day's top entertainment headlines delivered to your inbox every morning.
---