News > Nation/World
Residents return to damaged towns
Fri., Jan. 14, 2005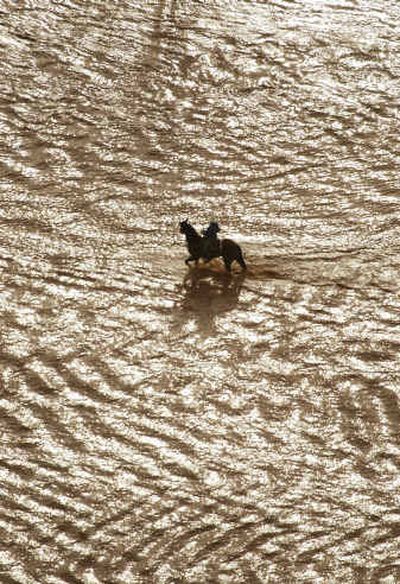 OVERTON, Nev – Unwilling to wait any longer and ignoring warnings that more water might be on the way, residents in the West returned to homes damaged by storm-swollen creeks and rivers.
"We've just got a big mess to clean up," said James Watkins, 50, who spent a sun-splashed day watching churning brown water recede around his Overton home.
As they came, emergency responders began pulling out at dawn Thursday from this southern Nevada town, replaced by road crews and health officials looking at the safety of the water and sewer systems, and testing roads flooded when water crested Wednesday.
Heaviest flooding was concentrated here, in the area where Nevada, Arizona and Utah meet; 18 homes were destroyed or condemned in St. George, Utah.
Moving east, the system triggered blizzard or near-blizzard conditions in North Dakota. Those warnings were later replaced by a wind chill advisory for the state, with conditions that could feel as cold as 50 below zero.
Two people were killed and 13 were injured in southern Arkansas' Union County late Wednesday or early Thursday by a violent storm that local officials said was apparently a tornado.
But the worst losses were at La Conchita in California's Ventura County, where a mudslide Monday crushed 15 homes and killed 10 residents.
A hillside began eroding away from beneath a private road in the tony Mount Olympus area of the Hollywood Hills, and 13 people were evacuated as five homes were red-tagged as unsafe. Los Angeles Mayor James Hahn said Wednesday the city had sustained damage totaling about $10 million.
People in Ventura County's Piru remained isolated Wednesday, with Highway 126 shut down due to mudslides on both sides of town. Several campers and residents were stranded.
"It brings everyone together," said Richard Aries, 42. "We're relatively lucky – fortunate compared to other people."
When the storm system later dumped rain over Nevada, Arizona and Utah, combined with sudden snowmelt, rivers transformed into raging torrents.
At least 18 homes have been lost or condemned because of record flood waters along the Santa Clara River in Utah. Some 100 families are reportedly displaced.
The Muddy River fanned out over ranches and farms, collapsed riverbanks near downtown Overton and forced an estimated 200 people to flee.
Authorities said flooding affected at least 100 homes, apartments and motor homes in the Overton area, a desert hamlet of some 2,000 families about 50 miles northeast of Las Vegas. A police helicopter rescued five people Wednesday in the Overton area, including two children, when they became trapped by rising water.
In nearby Moapa Valley, state officials planned to deliver feed by helicopter to about 700 head of cattle stranded without food for three days.
In Beaver Dam, Ariz., residents began returning to some 1,400 homes cut off Tuesday when raging waters washed out a road at the Beaver Dam Wash bridge. Authorities estimated 22 homes in Beaver Dam and nearby Littlefield, Ariz., were damaged or destroyed by flooding.
Back in Nevada, officials in Clark County, which includes Las Vegas, declared an emergency in response to flooding and the threat that avalanches posed to 66 homes on Mount Charleston.
Kim Evans, of the Nevada state Department of Public Safety, said the National Guard was mobilized to provide help in Lincoln County, where 600 people evacuated because of flooding.
About 60 homes in the Caliente area reported flood damage. The Air Force helped airlift about 140 children and counselors from a state youth corrections facility in Caliente to Panaca.
Local journalism is essential.
Give directly to The Spokesman-Review's Northwest Passages community forums series -- which helps to offset the costs of several reporter and editor positions at the newspaper -- by using the easy options below. Gifts processed in this system are not tax deductible, but are predominately used to help meet the local financial requirements needed to receive national matching-grant funds.
Subscribe now to get breaking news alerts in your email inbox
Get breaking news delivered to your inbox as it happens.
---