A&E > Entertainment
'Stripes" barnyard humor, banality may stink up film for grown-ups
Fri., Jan. 14, 2005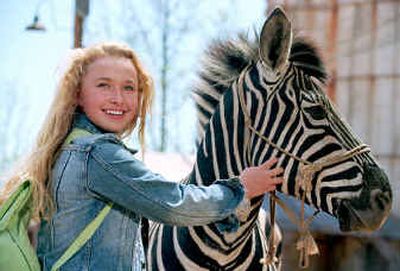 Can Stripes, a little lost zebra raised on a Kentucky farm, live out his dream of being a champion racehorse? Can Channing, the overprotected teen who loves him, convince her father to let her turn jockey?
Can you believe how contrived kids movies can get?
"Racing Stripes" also adds to the contrivance by having Stripes talk. His equally vocal barnyard friends include a goat voiced by Whoopi Goldberg, a pelican named Goose who sounds an awful lot like Joe Pantoliano and Dustin Hoffman whinnying as a Shetland pony.
Even so, parents who select a show of "Racing Stripes" for their children won't be doing too badly. The timeworn kid-movie themes – people shouldn't make fun of those who are different, and parents need to let kids grow up – are smoothly introduced, and the cuteness of baby zebras can't be underestimated (the first "awww" comes two minutes into the picture).
Tween girls particularly may enjoy the riding scenes, as well as Hayden Panettiere's performance as the spunky equestrienne whose dad won't let her follow her dream. Gross little brothers will undoubtedly delight in the far-too-numerous horse-manure and bird-dropping jokes.
Unfortunately for adults, the humor never rises very far above the barnyard. Whatever does seem aimed at them is either stilted (Goldberg the goat threatening "Don't make me chew open a can of pony whup") or stale (Pantoliano's pelican is a New Jersey wiseguy who quotes "The Godfather").
As for the adult actors on screen, though, Bruce Greenwood is properly rangy and concerned as Channing's dad, and M. Emmett Walsh prowls the racetrack in search of a character. As the villainness, Wendie Malick evokes boos and hisses until the moment comes for her comeuppance.
It eventually appears to every child's delight – and not a moment too soon for any accompanying parent.
Local journalism is essential.
Give directly to The Spokesman-Review's Northwest Passages community forums series -- which helps to offset the costs of several reporter and editor positions at the newspaper -- by using the easy options below. Gifts processed in this system are not tax deductible, but are predominately used to help meet the local financial requirements needed to receive national matching-grant funds.
Subscribe to the Spokane7 email newsletter
Get the day's top entertainment headlines delivered to your inbox every morning.
---