News > Spokane
Languages of the soul
Mon., Jan. 17, 2005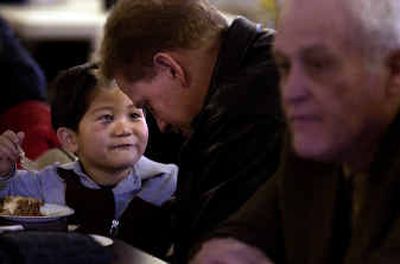 The seed was planted more than 30 years ago when six Korean families began gathering in Jesus' name.
Without a church or pastor, the Spokane residents met in one another's homes for Bible study and prayer, for fellowship and to celebrate their culture.
Over time, this small immigrant church where Korean was the exclusive language evolved into a diverse congregation. Today, the Korean Presbyterian Church of Spokane is home to a number of groups – elderly Korean Americans who don't speak English, second-generation teens who barely understand Korean, biracial families learning both languages, even people who, until they came to the church, had no ties to Korea at all.
As a sign of the church's commitment to all its members, the Korean Presbyterian Church recently hired an English-speaking pastor to minister to the people who speak only English. For the first time in its history, the church offers an English service in addition to its Sunday ritual delivered in Korean.
"They have a giving heart," said the Rev. Edwin Cain, the new pastor. "Their feeling is: 'We have been blessed in America, so we want to give back to American culture.' "
Since he was hired in November, Cain has worked closely with the Rev. Ki Beom Lee, the head pastor, to advance the church's mission of fostering harmony among members and preaching the Gospel to the world.
Of the church's 200 members, only 20 or so don't speak any Korean. They are a small minority, Lee acknowledged, but he wanted to make sure that everyone in the church was part of the spiritual journey. "Pastor Cain has been a great encouragement for me as a partner in this ministry," Lee wrote in a recent newsletter to church members.
Before Cain joined the Korean Presbyterian Church of Spokane, non-Korean speakers used headphones provided in the pews to listen to a translated version of Lee's sermon – an option still available during the 10:50 a.m. Korean service.
Many members, including Helen Kunja Eigen, now attend both services. She goes to Cain's 9:30 a.m. service with her husband, Ken, who doesn't speak Korean, along with their two young daughters. Then she stays for the later service in order to experience God in her native language. After the Korean service, her family gathers with other families in the church's fellowship hall to share a meal of rice, kimchi and other traditional Korean food.
"This is the best church for our family," said Helen Kunja Eigen.
By providing services in both languages, the Korean Presbyterian Church strengthens the family unit both culturally and spiritually, said Mike Reynolds, who joined the church seven years ago along with his wife, In Hye, and their two sons. Through the church, the Reynolds family has met other interracial families. Their older son also has been able to start learning a second language through the church's Korean language school.
Some Korean American teens also struggle with identity, said Lee, so it's helpful for them to be in a religious community that honors both their American and Korean traditions.
"A good relationship in Jesus Christ is most important," he said. But it's also important for these youths and others to preserve their Korean identity as they learn to assimilate into the American culture, said Lee, who left Seoul two years ago to become the church's pastor.
Cain, who was raised Presbyterian but was ordained in the Church of God, has never been to Korea or worked closely with any Asian communities until he was hired by the Korean Presbyterian Church. But his experience with the Amish and the Mennonite communities when he lived in Pennsylvania helped prepare him to thrive in this cross-cultural setting, he said.
Although he has worked at the Korean church for only a few months, he already has learned much about their culture, members say. When he greets people, Cain bows in reverence. He also has acquired a taste for the food.
"I love their respect for one another," Cain said. "It translates into relationships of honesty and openness."
Reynolds and other men who are married to Korean-born women were thrilled to learn about Cain's ministry and the church's efforts to reach out to the English-speaking community. "It shows that the church wants to grow," he said. "It's a sign that they care about everyone."
The Korean Presbyterian Church of Spokane has come a long way from those early days when the church didn't even have a name or a building, said Dr. Hi Lee, a Spokane physician whose family was among the six that started meeting regularly for prayer and Bible study.
More families joined them and in 1976, the group officially became the Korean Presbyterian Church of Spokane and was led by an ordained pastor, the Rev. Largo Kim. At that time, they had their services in a room at First Presbyterian Church near downtown Spokane.
In 1990, they purchased their current home, a large, red-brick church at 1727 E. Pacific in the East Central neighborhood. Over the years, the congregation bought a couple of houses next to the church and has transformed them into a book café and other centers open to the community. Once a month, the church provides a free medical clinic that even offers acupuncture. It also has a scholarship committee, services for the elderly, "house churches" that include Bible study classes, and a number of other ministries.
The Korean Presbyterian Church of Spokane is the largest of the six congregations that serve the roughly 1,500 Koreans in the Spokane area, according to Pastor Ki Beom Lee.
"We've seen a lot of Koreans who have moved to Spokane," said Dr. Hi Lee. "We also have seen people who admire the Korean culture, people who don't speak Korean but come to our church and want to learn more."
Bill Reynolds is one of those people. When the Spokane resident decided seven months ago to start attending church regularly, he specifically chose the Korean Presbyterian Church of Spokane.
He didn't know anyone there, but he sought a Korean congregation because of fond memories of his 18-month stay in Seoul many years ago. People were so kind and friendly, he said, just like the Korean community he has gotten to know here in Spokane. "Even if you can't understand the language, you can see their enthusiasm for their work and for religion," said Bill Reynolds.
The fact that the congregation has chosen to expand its ministry to the English speakers among them impressed him even more.
"They recognize that we are all brothers and sisters," he said. "It's not the color of the skin that matters; they're going for the soul. Their spiritual message goes right to the heart."
Local journalism is essential.
Give directly to The Spokesman-Review's Northwest Passages community forums series -- which helps to offset the costs of several reporter and editor positions at the newspaper -- by using the easy options below. Gifts processed in this system are not tax deductible, but are predominately used to help meet the local financial requirements needed to receive national matching-grant funds.
Subscribe now to get breaking news alerts in your email inbox
Get breaking news delivered to your inbox as it happens.
---