News > Idaho
Mamas prove to be a big hit at Big Ben
Mon., Jan. 17, 2005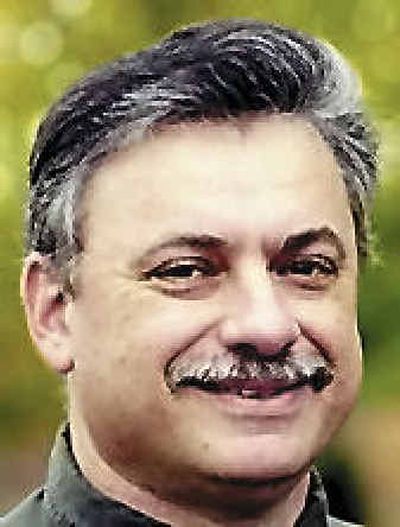 You may have heard that Coeur d'Alene's Red Hot Mamas entertained London's throngs on New Year's Day 2004. But did you know they had the Brits doubled over in laughter? Yeah, the Mamas were at the top of their game as they danced around the tower of Big Ben. But cultural elements were involved in those belly laughs, too. Head Mama Mikki Stevens explained the phenomenon to Huckleberries. Seems the Brits enjoy humor based on self-deprecation. And they view Americans as too loud, bold and over the top. When they saw the Mamas waltzing up the parade route in their colorful get-ups, pushing shopping carts, they lost it. The Americans, they thought, were being very British in making fun of themselves. Also, the crowd couldn't believe Mikki & Co. were able to maneuver their carts. The Brits hate the "trolleys" because they're hard to control. The wheels go in all directions. Sez Mikki: "They were laughing so hard they were crying."
Web wars
There's a nasty little battle going on in the local blogosphere. After Phil Corless of The CDA Blog republished a Coeur d'Alene Press Online photo of the Polar Bear plunge in Lake Coeur d'Alene New Year's Day, Press Editor Mike Patrick sent him a cease and desist e-mail. Phil published that, too, and went about his business of running three blogs – until he discovered someone from the Spokane Valley had registered the domain names "cdablog.com" and "thecdablog.com" out from under him. When he confronted the culprit, he learned the man had registered the domain names in the last few days for a CdA client. You got it. The Coeur d'Alene Press. Which, of course, caused Phil to fume: "Does Duane know that he can't make any money off a blog? Will he get mad at the last minute and create 'The Real Post Falls Blog' instead?" You can read all about it at www.pkmeco.com/cdablog. Or mebbe that's been purchased, too.
It's the water
First, you should know that Bette Carlascio of Anaconda, Mont., is the mother-in-law of Anne Thomas, the assistant dean of admissions at Gonzaga U. Now that the tie to the area is established, onward. After Christmas, Bette, a Roman Catholic, accidentally left a bottle of holy water from Lourdes, France, in a friend's car. (For those keeping score at home: In 1858, Catholics believe, the Blessed Virgin Mary appeared 18 times to a 14-year-old peasant girl near Lourdes.) Neither the holy water nor the car moved from that spot for several weeks. When Bette visited the friend to retrieve the holy water, she found it unfrozen, despite several nights of subzero temperatures, while other bottles of water in the car were frozen. A miracle? P'haps. Certainly beats a replica of the Virgin Mary's face on a grilled cheese sandwich.
Poet's corner
A party costing 40 mil/Should give all citizens a thrill,/With music, laughs and fun galore – /Oh what a jolly little war! – The Bard of Sherman Avenue ("Wartime Inaugural").
Huckleberries
The opening act for the Fabulous Shadows at that North Idaho College Valentine's fund-raiser is going to be – who? The Bendover Sisters of the Silver Valley? The mind races … Bill McCrory of Whitecaps blog: "Thank goodness for careful headline proofreading and editing. From Wednesday's CdA Press: 'Hayden, Wal-Mart butt heads.' Had one space been removed from this headline …" … Samples of Post Falls High quotes of the week posted on the Web site of Post Falls Uncensored: "I've been grounded since fourth grade." And: "Does anybody want to give me any of their food involuntarily." And: "Don't look at me like I just ran over a puppy!"
Parting shot
Bob Salsbury of Spokane Valley offered the best reason why new Kootenai County commish Katie Brodie should resign her night job as property manager for Idaho Forest Industries: "Which master does she serve? The people of Kootenai County or her timber baron bosses? I could see huge conflicts of interest around land use decisions." Ah, is there a Door No. 3?
Local journalism is essential.
Give directly to The Spokesman-Review's Northwest Passages community forums series -- which helps to offset the costs of several reporter and editor positions at the newspaper -- by using the easy options below. Gifts processed in this system are not tax deductible, but are predominately used to help meet the local financial requirements needed to receive national matching-grant funds.
Subscribe now to get breaking news alerts in your email inbox
Get breaking news delivered to your inbox as it happens.
---