News > Features
Mother's nature struck by snowfall
Mon., Jan. 17, 2005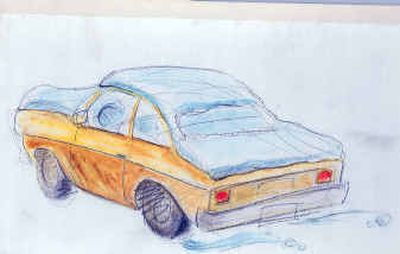 OK. You got your snow. You got the slick roads, grimy headlights, impossible- to-see-through windshields and crazy traffic that come with it. I hope you're happy.
The experts blamed the lack of snow and the warmer and dryer than normal conditions on Mother Nature's willful El Niño. But to tell you the truth, I think I had a lot to do with it.
You see, I've got this boy, my own El Niño, and he's driving now. And like most 17-year-olds he's confident that he can handle anything that comes along.
Never mind that the roads are crowded with people who are in a big hurry, who might have stopped for a couple of drinks on the way home, and don't want to slow down for a little ice.
Never mind that we live near a blind curve on a busy highway where, as soon as darkness falls, suicidal deer line up to throw themselves in front of cars.
It's hard to sit beside him, and act calm while he tries out new skills. Once, to show me something he had found, he drove me down a rutted, country road. When he turned the car around, he had to bump the wheels up a few feet of the bank on the side of the road and even that was too much for me.
I acted like a cat going through a car wash, hissing and clutching the dashboard as he laughed at me
He just likes to drive.
But, for me, old habits are hard to break.
The first moment I cradled his hard, down-covered, newborn head in the palm of my hand, I was lost. For 17 years I've looked out for him. I held his hand as he learned to walk. I picked him up when he fell. I bandaged him and comforted him (and myself) while others stitched-up torn skin and set broken bones.
That was easy. What's hard is watching him pull out of the driveway, knowing his mind is on a girl, or a game or his music.
Whenever he buckles ( I hope) himself into a two-ton four-wheel-drive missile, cranks up a Bob Marley CD and heads out, I lie awake imagining the worst, waiting for him to return or check-in on the cell phone, (my own way of reattaching the umbilical cord.)
So, each time the sky looked like it might snow, I wished it away. "Just a little more time," I'd beg. "Let's just give him a little more time."
Other parents seem to know how to let go. I wish I did. They help plan ski trips and give permission to drive on sloppy roads. They wave goodbye, turn on the porch light and go to sleep, confident that everything will be fine.
I pace the floor imagining the worst, listening for sirens, working myself into such a state that when he finally makes it home, and waltzes in still keyed-up and excited, I greet him with as much tenderness as a wolverine.
Even after all these years, I'm still surprised by the fierce protectiveness that wells up in me each time I think about what could happen to one of my children. It's exhausting.
So, you didn't get a white Christmas and you missed a few days on the slopes. I'm sorry. I was tired. I needed the break.
Now he's out there, on those slippery roads you were so anxious for. And, now, part of the responsibility is yours. So slow down, give him room. Don't push him through yellow lights and around corners. Drink at home and stay there. Be careful.
Remember, armed with love and worry, I was able to keep the snow and ice away for a couple of months, and in that way make it safer for my El Niño to navigate.
That isn't a threat; it's just a mother's nature.
Local journalism is essential.
Give directly to The Spokesman-Review's Northwest Passages community forums series -- which helps to offset the costs of several reporter and editor positions at the newspaper -- by using the easy options below. Gifts processed in this system are not tax deductible, but are predominately used to help meet the local financial requirements needed to receive national matching-grant funds.
Subscribe now to get breaking news alerts in your email inbox
Get breaking news delivered to your inbox as it happens.
---