Sports
Rodeo finishes with a flurry
Mon., Jan. 17, 2005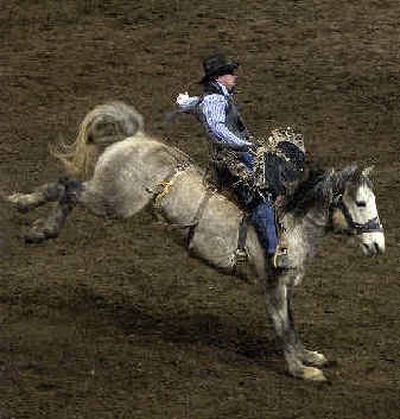 Cowboy up.
When the going gets tough and the aches and pains mount, that's the phrase that pays: Cowboy up.
Just ask Clint Bruised Head.
The cowboy from Warm Springs, Ore., by way of Standoff, Alberta, Canada, was a three-event performer in Sunday's finale of the Wrangler Pro Rodeo Classic at the Arena.
"That's my plan for this year – to go full-bore in three events," Bruised Head explained. "Last year I just did steer wrestling and tie-down roping. This year I'm adding saddle bronc riding."
It was the addition that almost subtracted an appendage Sunday – or at least compacted it.
Having trouble getting his horse's head up inside the bucking chute, Bruised Head had his mount, Lonesome Heart, rear up as the gate swung open, then topple over sideways. The horse just missed impaling its rider on the chute post, but did manage to land hard on Bruised Head's left leg.
"There's nothing broken or anything, but I'm going to be sore tomorrow," he said. "I already have a huge welt on the inside of my leg.
"I just had to walk it off as best I could and get ready for my next event."
His first event, steer wrestling, saw Bruised Head turn in a respectable 10.8 seconds that finished out of the money. His fall in the saddle bronc riding earned him plenty of audience sympathy – with announcer Jerry Todd spinning a few puns on his family name, but no prize money.
But his 10.3 second time in tie-down roping netted him a tie for second place and a check for just over $700 – a win that was made sweeter by a little surprise from his wife, Sammy.
"My parents came in to watch me," Bruised Head said, smiling. "I didn't know they were going to be here – my wife knew, but she didn't tell me."
Bruised Head has had plenty to smile about lately. A member of the Blood Tribe of Alberta, he won the steer wrestling event and earned All-Around honors at the Indian National Finals Rodeo at the Saboba Casino in San Jacinto, California in November – earning a championship belt buckle and saddle.
Coming off that win, the 33-year-old Canadian launches into his three-pronged attack on the pro rodeo circuit.
"My wife keeps pounding on me to get myself into the best shape I possibly can so I can hold up doing three events," Bruised Head said. "But between rodeo, work and doing the chores I have to do at home, there isn't a whole lot of time to get into shape."
Or to get out of shape, for that matter.
Sunday's finale was outstanding for timed events. Team roping, steer wrestling and tie-down roping all had the fastest times of the three-day event posted.
Going into the finale, two cowboys turned in 4.6 seconds in steer wrestling. Burbank's Tyler Bronkhorst matched that time on the first steer, hinting at what was to come. Pasco's Michael Stevens turned in a lightening-fast 3.9 seconds to win the steer wrestling, and by the time all 10 competitors had made their runs, 4.6 was good only for a share of fourth place.
Colbert's Fred Brown captured the tie-down roping with a time of 9.6 seconds, with the three fastest times of the weekend all posted Sunday.
Brandon Beers, from Powell Butte, Oregon, and Brady Minor, from Ellensburg, won the team roping with a time of 5.6 seconds.
The rough stock events were, well, rough.
Sandpoint's Rowdy Buechner posted the top rides Friday and Saturday nights – turning in a 77 on Shorty Friday and an 81 on Spotted Holly Saturday. Sunday Buechner could only hang on for eight seconds – good enough to finish first in average with 218 points on three rides.
Mitch Rickman shared top honors with an 81 Saturday on Pale Face.
In saddle bronc riding, Randy Jones turned in a 76 on Idaho Sunday, good enough to win the two-day average (151 points on two rides). Gary Alger's 78 Saturday was the top score over all three performances.
The bulls were the overall winners in the rodeo's premier event.
Kelly Crystal's 82 Saturday was the top score by a bull-rider.
Great Falls' Bob Voegel turned in a 74 Sunday to earn a fourth-place check of $405.07.
"I knew a little bit about my bull (Mexican Joe) going in and I knew I wasn't going to get a very good ride," Voegel said. "He actually was better today than I'd ever seen him. I got a pretty good ride."
The rodeo shifts gears for bull-riding. The music shifts from country to rock-and-roll, bull-fighters come out to help amp up the crowd, while it collectively slides forward in its seats.
"You definitely feel the crowd get into it," Voegel said. "It gets you pumped up, that's for sure."
Local journalism is essential.
Give directly to The Spokesman-Review's Northwest Passages community forums series -- which helps to offset the costs of several reporter and editor positions at the newspaper -- by using the easy options below. Gifts processed in this system are not tax deductible, but are predominately used to help meet the local financial requirements needed to receive national matching-grant funds.
Subscribe to the sports newsletter
Get the day's top sports headlines and breaking news delivered to your inbox by subscribing here.
---