Sports
Rutgers finally falls to Top 10 team on Ohio State's late rally
Mon., Jan. 17, 2005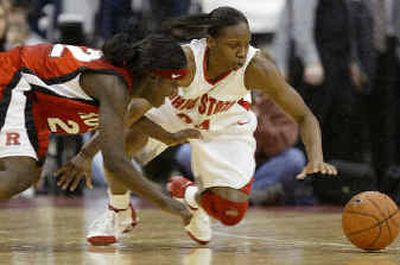 Rutgers finally found a Top 10 team it couldn't handle.
Jessica Davenport scored 22 points and No. 5 Ohio State went on a late 6-0 run to beat the fourth-ranked Scarlet Knights 52-50 on Sunday in Columbus, Ohio, the Buckeyes' sixth win in a row.
Rutgers (12-3) quickly rose in the rankings by beating No. 8 Tennessee, No. 4 Texas and No. 1 LSU in the span of eight days in the last month. However, Ohio State (17-2) won by getting the ball inside to Davenport and consistently beating the Knights' pressure defense.
"That was a big game," said Ohio State's Caity Matter, who hit a 3-pointer on the biggest possession of the game. "They've been playing so well. But that was a battle between two great teams."
Davenport went 7 for 12 from the field, including making her only 3-point attempt, and was 7 of 8 at the line. She also had seven rebounds, two blocked shots and a steal.
"We didn't have an answer for the big girl," Rutgers coach C. Vivian Stringer said. Davenport led the way as the Buckeyes – leading the nation in field-goal shooting at 52.4 percent – hit 77 percent of their shots in the second half against one of the country's top defensive teams.
"That's not a good thing," said Rutgers guard Chelsea Newton. "We just didn't make smart decisions in the second half. It hurt us when they knocked them down."
Matee Ajavon had 20 points to lead Rutgers, which had a seven-game winning streak snapped.
Elsewhere
(2) Baylor 78, Oklahoma 68: At Waco, Texas, Chameka Scott made three 3-pointers in the deciding 16-4 run that pushed the Bears (13-2, 3-1 Big 12) past the Sooners (9-5, 1-2). … (3) LSU 76, Alabama 51: At Baton Rouge, La., Seimone Augustus scored 19 points in 23 minutes to lead the Tigers (16-1, 3-0 Southeastern Conference) over the Crimson Tide (10-6, 1-2). … (7) Notre Dame 86, (20) Purdue 69: At South Bend, Ind., Jacqueline Batteast had 21 points and 11 rebounds, and Megan Duffy scored 17 of her 19 points in the first half to lead the Fighting Irish (14-3) over the Boilermakers (10-6). … (8) Tennessee 79, (17) Vanderbilt 65: At Nashville, Tenn., Shanna Zolman scored 20 points, and the Vols (12-3, 2-0) rallied from a 15-point deficit to win its 36th straight SEC regular season game by beating the Commodores (13-3, 2-1). … (9) Michigan St. 62, (11) Minnesota 49: At East Lansing, Mich., Lindsay Bowen scored 18 of her 20 points in the second half and helped the Spartans (15-2, 4-1) hand the Gophers (14-3, 4-1) their first Big Ten loss.
Florida State 95, (15) Maryland 91 (OT): At Tallahassee, Fla., Roneeka Hodges scored seven of her school-record 39 points in overtime, helping the Seminoles (16-2, 3-1 Atlantic Coast Conference) upset the Terrapins (12-3, 2-2). … (18) Georgia 71, Auburn 56: At Athens, Ga., freshman Tasha Humphrey had 17 points and 10 rebounds and the Bulldogs (14-5, 3-2 SEC) made nine 3-pointers en route to beating the Tigers ((9-7, 0-3). … Arizona 84, (19) UCLA 73: At Los Angeles, Dee-Dee Wheeler had 19 points and a 11 assists to lead the Wildcats (12-4, 4-2 Pac-10) past the Bruins (11-5, 5-2).
(21) Iowa 81, Northwestern 76: At Iowa City, Iowa, Jamie Cavey scored 29 points and the Hawkeyes (14-3, 3-3 Big Ten) overcame a 17-point deficit to beat the Wildcats (4-15, 1-5). … (22) DePaul 103, Charlotte 64: At Chicago, Khara Smith had 31 points and 14 rebounds to lead the Blue Demons (13-3, 2-1 C-USA) over the 49ers (15-3, 3-1).
Local journalism is essential.
Give directly to The Spokesman-Review's Northwest Passages community forums series -- which helps to offset the costs of several reporter and editor positions at the newspaper -- by using the easy options below. Gifts processed in this system are not tax deductible, but are predominately used to help meet the local financial requirements needed to receive national matching-grant funds.
Subscribe to the sports newsletter
Get the day's top sports headlines and breaking news delivered to your inbox by subscribing here.
---