News > Spokane
Sandpoint man dies in Utah avalanche
Mon., Jan. 17, 2005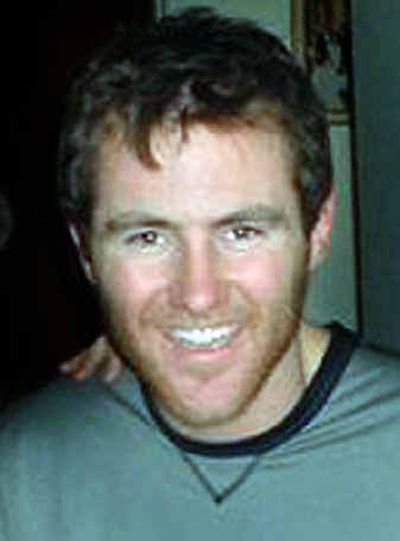 Shane Maixner died doing what he loved.
The 27-year-old Sandpoint resident was swallowed up by an avalanche Friday afternoon while snowboarding near the Canyons Ski Resort in Park City, Utah. Searchers recovered his body Sunday morning from under 4 feet of snow.
Maixner, a North Dakota native, was described Sunday by family members and friends as an adventurous outdoors enthusiast who lived life to the fullest and always had a smile on his face.
"Shane was the type of person that people just gravitated to," said sister Chantel Hartl of Bismarck, N.D. "He believed that you were given a gift with life and that you need to give back more than you were given."
Hoping for the best but fearing for the worst, co-workers at the Schweitzer Fire District flew a flag at half-staff Saturday and Sunday.
Maixner had worked as a resident emergency medical technician at the station for the past few months, said Chief Spencer Newton.
"Even though he was only around for a couple of months, he was a good guy. He was one of those guys you don't want to lose once you've got him," Newton said.
"We just can't believe it happened to him," Newton added.
A searcher using a probe found Maixner at the north end of the slide after dogs had found the site.
His body has been taken to the Utah state medical examiner's office for an autopsy and then will be returned to his family in Bismarck.
Searchers will continue to look for two to five other lost skiers and snowboarders today. About 200 people searched on Saturday and Sunday and radar equipment will be brought in today.
Officials are uncertain how many people may have been engulfed by Friday's avalanche, said Jerianne Kolby at the Summit County Sheriff's Department operations center.
About 40 people reported as missing were accounted for by Sunday afternoon, but other people may still be under the snow, Kolby said.
A friend on the mountain with Maixner saw the avalanche overtake Maixner and called 911 on his cell phone.
According to Summit County Sheriff's Department press releases, the avalanche occurred outside the Canyons Ski Resort boundaries, where signs warned there were no avalanche control activities and conditions might be dangerous.
But Hartl said her brother would never have snowboarded in an area that he believed was treacherous. She added that her family has been hurt by comments from people who have portrayed Maixner as careless for snowboarding outside the ski area's boundaries.
"He was not a reckless person. He was adventurous, but not reckless," Hartl said. "Even the friend he was with stated they bypassed some areas because of the conditions there."
Maixner recently earned a degree in sports physiology from the University of Montana in Missoula, said Hartl. He was taking off a semester to look into physician-assistant schools in Utah, Hartl said, adding that he wanted to work in wilderness medicine.
Prior to finishing his degree, Maixner worked as a physical therapy assistant at Advanced Physical Therapy in Sandpoint, a company he partially owned at the time.
He moved to North Idaho about six years ago. That's where he fell in love with the outdoors.
In addition to snow sports, Maixner also enjoyed white-water rafting, hiking and swimming.
Growing up in North Dakota, Maixner was the brother that Hartl said she could count on for advice and understanding.
"He had these beautiful brown eyes. He was the type of kid who was very sweet and was very helpful," she said.
Maixner is survived by his father, stepmother, two brothers, two sisters, three nieces, three nephews and countless friends.
The entire family was together over the Christmas holiday in Sandpoint, said Hartl, who added that she was glad to witness firsthand how much her brother was liked by the people in the community.
"Everybody who walked by knew who he was," she said.
Hartl said she thinks people were attracted to Maixner's love for life.
"He never wanted to look back on his life with regret … that he missed opportunities. He thought you should be everything you could be."
Local journalism is essential.
Give directly to The Spokesman-Review's Northwest Passages community forums series -- which helps to offset the costs of several reporter and editor positions at the newspaper -- by using the easy options below. Gifts processed in this system are not tax deductible, but are predominately used to help meet the local financial requirements needed to receive national matching-grant funds.
Subscribe now to get breaking news alerts in your email inbox
Get breaking news delivered to your inbox as it happens.
---