News > Nation/World
Sharon cracks down on Palestinian militants
Mon., Jan. 17, 2005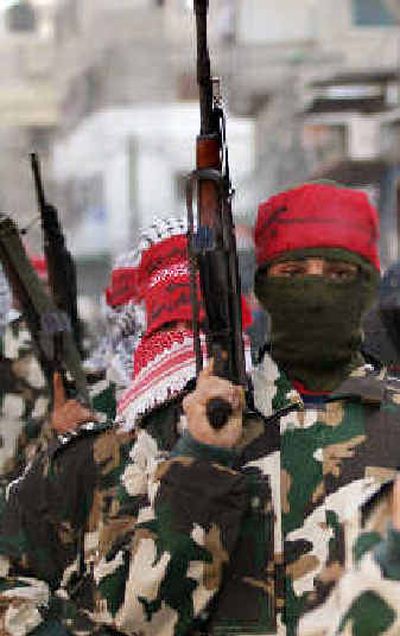 JERUSALEM – Israeli Prime Minister Ariel Sharon told the army to do whatever is needed to end Palestinian rocket, mortar and bomb attacks, and the government dismissed a call Sunday by the PLO leadership for a halt to militant violence, hours before Palestinians claimed Israeli tank fire had killed a 28-year-old man and his mother in the Gaza Strip.
"Despite the change in the Palestinian leadership, we note that those at the top have not begun any action whatsoever to halt the terrorism," Sharon told the Cabinet at its weekly meeting. "The situation cannot continue."
After nightfall Sunday, a tank shell slammed into a house in a Gaza refugee camp across from an Israeli settlement, killing a 28-year-old man and his 59-year-old mother and seriously wounding his father, Palestinians said. The military said there was no tank shelling, but tanks fired machine guns.
The bloodshed has escalated tensions with the new Palestinian leader, Mahmoud Abbas, whose election last week had raised hopes for a breakthrough in Mideast peacemaking. Palestinian officials accused Sharon of undermining Abbas' fledgling efforts to persuade militants to halt the violence.
After Sharon unleashed his military, the Palestinian Liberation Organization's Central Committee met to discuss the rising tensions.
At the end of the meeting, the powerful PLO body headed by Abbas said the militants were only hurting the Palestinian cause and called on them to "stop all the military action that might harm our national goals and give the Israelis an excuse to obstruct Palestinian stability."
The statement was the PLO's strongest language against violence since the death of longtime Palestinian leader Yasser Arafat on Nov. 11. It did not specify, however, what action might be taken against militants.
Israeli officials discounted the statement and said military preparations for a crackdown were continuing.
Israeli media reported late Sunday that the head of Palestinian security in Gaza, Rashid Abu Shbak, told Italian TV that if the militants do not "exercise responsibility," Palestinian security will "exercise its authority in those areas." Palestinian officials could not verify the quotes but confirmed the tone of the remarks.
Sharon cut off contacts with Abbas after Palestinian militants killed six Israelis at a Gaza Strip crossing Thursday. The attack sparked Israeli reprisals that killed eight Palestinians in Gaza on Saturday.
Defying the Israeli offensive, militants fired homemade rockets from Gaza at the southern Israeli border town of Sderot, critically wounding a teenage girl. Two more rockets landed in Sderot on Sunday, causing no injuries, and Palestinian mortar fire damaged a home in a Jewish settlement.
Sderot residents, outraged by the constant attacks on their city, planned a daylong demonstration today, demanding government action.
Israel wants Abbas to crack down on the militants. While repeatedly condemning violence as counterproductive, Abbas prefers to negotiate a cease-fire commitment with the militants. He has been in talks with the Hamas and Islamic Jihad groups.
"The army and the security forces have been instructed to step up operational activity against terrorism and they will continue to do so, without restrictions, I emphasize, without restrictions, as long as the Palestinians are not lifting a finger," Sharon told his Cabinet.
Senior military officials, speaking on condition of anonymity, said the army was considering either a major raid or several small operations against militants. The military prefers the second option, fearing a broad operation would ruin Abbas' chances for success, the officials said.
The new violence may reflect militants' desire to prove their strength and compel Abbas to take them into account as he begins his tenure.
Militants have also stepped up attacks ahead of a planned Israeli withdrawal from Gaza this summer, hoping to make it look like Israel is fleeing under fire.
Palestinian Prime Minister Ahmed Qureia said Israel is trying to sabotage Palestinian efforts to end the violence.
"This is an Israeli attempt to flee from any effort that is supposed to calm down the situation and return us to the negotiating table," Qureia said.
Some within Israel have criticized Sharon for his abrupt decision to cut ties with Abbas, saying the new Palestinian leader should be given a chance to prove himself.
"He hasn't been in power long enough to crack down on terrorism," said Israeli Environment Minister Shalom Simhon of the dovish Labor Party, Sharon's new coalition partner.
Local journalism is essential.
Give directly to The Spokesman-Review's Northwest Passages community forums series -- which helps to offset the costs of several reporter and editor positions at the newspaper -- by using the easy options below. Gifts processed in this system are not tax deductible, but are predominately used to help meet the local financial requirements needed to receive national matching-grant funds.
Subscribe now to get breaking news alerts in your email inbox
Get breaking news delivered to your inbox as it happens.
---