Sports
Singh ready to tackle the next challenge
Tue., Jan. 18, 2005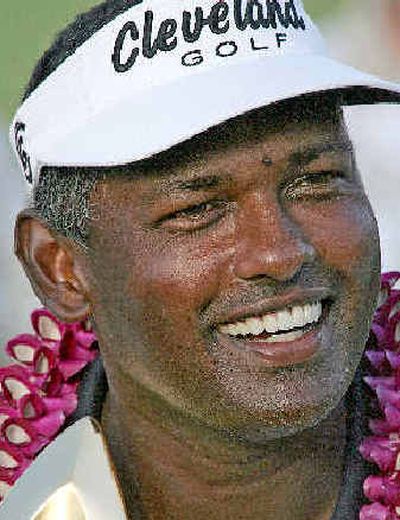 HONOLULU – The procession of interviews was almost over and Vijay Singh was in no hurry. He had the Pacific Ocean on his left, the Sony Open trophy on a table to his right and a load lifted from his broad shoulders.
He had never won this early in the season. The timing could not have been better.
"This is what I needed," Singh said after playing mistake-free on Sunday at Waialae Country Club, hitting a clutch drive to set up a routine birdie on the 18th hole for a one-shot victory over Ernie Els.
Even though he is No. 1 in the world and on top of his game, Singh was tense about the 2005 season.
He was coming off a year in which he became only the sixth man in PGA Tour history to win at least nine times. His earnings of nearly $11 million shattered the tour record.
He faced a different kind of pressure – the encore.
And in his first tournament of the year, Singh blew a 54-hole lead for the first time since 2001. He was poised to win the Mercedes Championships until he hooked a tee shot into the waist-high grass at Kapalua and made triple bogey, costing him a chance to win.
Then comes the Sony Open, where he's never finished better than eighth.
"Everybody thinks, 'Is he going to win again? Is he going to win again?' I missed an opportunity last week that could actually work against me if I do that," Singh said. "I think this is going to help. This is a great relief. I can start breathing again and go play more comfortable for the rest of the season. I'm looking forward to the rest of it."
That wasn't the case earlier in the week at Waialae. Singh looked like he was simply going through the motions, trading birdies or sloppy bogeys, shooting even par on the back nine of his second round.
His focus was gone when he walked up the fourth green and said to a television reporter, "This game is crazy. I don't understand it."
But then came a stellar recovery from deep in the left rough on No. 5 when his lofted pitch barely cleared the bunker and stopped 4 feet from the pin for par. And he closed out the round with a 40-foot eagle putt that dropped into the cup on its last turn.
Suddenly, he was 3 under par, just five shots from the lead.
And when he teed off Sunday afternoon in blustery conditions, there were only five players between Singh and the lead. He knew none of them would be able to run away from him as long as he eliminated the mistakes.
"I want to go out there and win golf tournaments, and this is a relief now that I've already won one," he said. "This is a big load off my back."
And suddenly, the outlook on his year smelled as good as the Hawaiian flowers around his neck.
"I think it's going to be a great year," he said.
The next challenge comes this week at the Buick Invitational at Torrey Pines, a course that would seem to suit Singh well because it favors big hitters.
But he missed the cut last year – his only weekend off all year – and had to withdraw in 2003 when he spent so much time on the range he injured his ribs.
"I know next week is going to be a big field, and that the golf course has not been the best for me," Singh said. "But I'm going to go out there and fix that."
That's what Singh does best.
Give him a new challenge, and he always seems to respond.
"He's on top of his game right now," Els said. "He's swinging well and he's doing everything really good. He's got a lot of confidence. A guy like that, with all of that talent, he's not going to go away."
Local journalism is essential.
Give directly to The Spokesman-Review's Northwest Passages community forums series -- which helps to offset the costs of several reporter and editor positions at the newspaper -- by using the easy options below. Gifts processed in this system are not tax deductible, but are predominately used to help meet the local financial requirements needed to receive national matching-grant funds.
Subscribe to the sports newsletter
Get the day's top sports headlines and breaking news delivered to your inbox by subscribing here.
---