News > Idaho
Dan Hibbard's memory will live on in his music
Sat., Jan. 22, 2005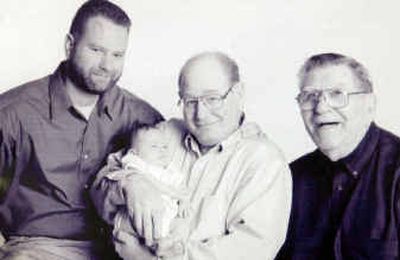 Dan Hibbard, local musician, vocalist and native son of Coeur d'Alene, died Dec. 13 at age 55, but the music he enjoyed and the entertainment he provided lives on in his friends and his recordings.
His mother, Roberta Hibbard, recalls that he started humming tunes before he could talk. The family was very musical, and a 5-year-old Dan made his first $5 singing at the Coeur d'Alene Hotel in Spokane in 1954 with his grandfather. Roberta said that her dad gave Dan the money and a note written on a piece of cardboard that read, "Danny made his first $5 singing at the Cd'A Hotel."
Dan played western music for the last seven or eight seasons at The Rockin' B Cowboy Supper Club in Liberty Lake. The Rockin' B is a nonalcoholic, nonsmoking venue that is great for a family night out, according to Maggie Hibbard, Dan's wife of 26 years. A singer herself, Maggie and Dan sang often at church together when they first met.
He also performed once a month for the past eight years for residents at Heritage Place in Coeur d'Alene. Maggie said he was very good at relating to older people.
"He played for older people all of the time, in all the fraternal organizations and the Grange halls," Maggie said.
He learned to play guitar as a boy after his uncle from the East Coast helped him get the instrument. He took lessons, and by the age of 12 he was giving the lessons. Dan was a member of all of his school choirs. He could read music, but he could also pick it up by ear. Both his parents are very musical – his mother is an accomplished pianist, and his father, Elton John Hibbard, is a vocalist. Dan's parents are still performing.
Maggie said his genre was "everything." He played Neil Diamond, Gordon Lightfoot, Marty Robbins, and he loved Simon and Garfunkel.
She gave him one of the biggest thrills of his life in the fall of 2003, when she got tickets for Simon and Garfunkel in Seattle. He sent her a dozen red roses in thanks.
"He was in total awe from the first down-stroke of the guitar," Maggie said.
Gayle Jennings used to accompany Dan on piano. They first met at a drugstore picnic when she was about 10. Roberta Hibbard worked at Hart Drug in Coeur d'Alene, owned by Jennings' parents. Java on Sherman now occupies the space where the drugstore once was.
"I will always remember Dan asking my mom to dance," Jennings said. He was about 8 or 9 then. "That family always had music in them.
"We started playing together when I was about 16," Jennings said. "Our first gig was in '60s playing at the Miss Post Falls beauty pageant, in the gym at Post Falls High School."
They played "Louie Louie," "Moon River," and the "Tennessee Waltz" for a couple of hours and they made $25 each. Jennings said they thought they were hot stuff!
They played together in the early '80s at the Carriage House in Twin Lakes, the Ponderosa Golf Course Clubhouse, the Coeur d'Alene Elks, and she joined him a few times at Heritage Place in the past couple of years.
Jennings saw him last at the Rockin' B last June.
"It was a fabulous performance," Jennings said. "He soloed on 'Eagles and Horses,' which was one of his signature songs."
Even though she hadn't seen Dan since June, they spoke often by phone.
"He had such an exceptional talent; he deeply felt the emotion in songs," Jennings said. "He conveyed that emotion to audiences. When he was partnering with somebody, he knew their strengths and brought them out. He could read his audience so well and give them what they wanted."
Jennings' father died six years ago, and Dan officiated at the funeral.
Dan's friend of 30 years, Jim Patterson, was a pharmacist fresh out of college when they met at Hart Drug. They also met through Roberta, who worked with him at the drug store.
"We only shared front-room musicianship," Patterson said. He played drums and guitar with Dan, but only in private.
Patterson's wife was a singer, so they would jam in the living room. He said the Hibbards were his adopted family.
"He was just an incredibly loyal guy," Patterson said. "He spent a lot of time taking care of folks. We wouldn't see each other for a while, and then we'd pick up where we left off. He had lots of friends like that."
Patterson said it was pure family entertainment at the Rockin' B, with lots of "cowboy harmony."
Dan and Maggie enjoyed traveling together and visited Nashville, Baltimore and the East Coast. She said he loved Central Park, and they enjoyed playing the slots at Las Vegas and Reno.
More than 250 people paid tribute by attending Dan's funeral. He is also survived by his two children, Bradley Hibbard and Erika Foreman, and his sisters, Barbara Workman and Bonnie Abbott, and his three grandchildren. Maggie said that no one was more loved by Dan than his children and grandchildren.
Local journalism is essential.
Give directly to The Spokesman-Review's Northwest Passages community forums series -- which helps to offset the costs of several reporter and editor positions at the newspaper -- by using the easy options below. Gifts processed in this system are not tax deductible, but are predominately used to help meet the local financial requirements needed to receive national matching-grant funds.
Subscribe now to get breaking news alerts in your email inbox
Get breaking news delivered to your inbox as it happens.
---