Sports
Cougar seniors give way
Sun., Jan. 23, 2005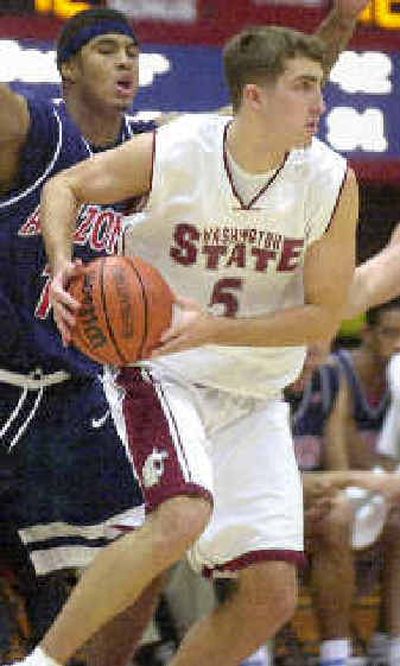 On the very first day of basketball practice in October, Washington State had two of its freshmen squaring off against two of its seniors in competitive shooting drills. The message was clear enough — anyone could get playing time and no role was safe.
Still, WSU's senior class of five had good reason to think that the 2004-05 season would be theirs for the taking. Three of them had started at least 21 games the year before. A fourth had become a key starter after sitting part of the season out because of transfer rules.
And it would not have come as a great shock if the Cougars had gone with a starting lineup featuring four seniors, especially given the rest of the roster, which had just one junior and a bevy of callow freshmen.
As the Cougars make their way through the Pac-10 season, though, it is now obvious that head coach Dick Bennett won't be relying only on seniors.
In fact, with the onset of 2005 has come the emergence of a starting lineup featuring three freshmen. And the disappearance of that senior-laden look.
"When the freshmen came in, we knew they were good players and we knew that there was the possibility a couple of them could start," senior forward Shami Gill said. "We are enjoying some success we haven't had, and that's what counts."
On New Year's Day, Gill left practice early because of recurring back problems. He hasn't played since, and is highly unlikely to suit up today at Washington for the 8-7 Cougars. The next day, senior forward Chris Schlatter played just 20 minutes, and his on-court time has decreased in every game since. A week after that, senior guard Isaiah Simmons, who had just played 11 helpful minutes against USC, was declared academically ineligible and vanished from the WSU radar screen.
"It's like we're dwindling a little," Schlatter said. "Isaiah is gone, Shami's been hurt. I just think that you have to give credit to the freshmen, really. They've been asked to step into a role and play it right away. Not just to play, but to produce. And I think they've done a really good job of doing that."
The Cougars' two most productive players are seniors Thomas Kelati and Jeff Varem. But outside of that, it's hard not to notice the lack of upperclassmen called on by Bennett to play. Bennett has wished out loud on occasion that he could get more production from his senior class, but for a multitude of reasons, it appears that he's now turning to freshmen instead.
"I thought we might have a lot of young guys playing," Bennett said. "I didn't think we'd have as many as we do. I thought there would be a little more senior involvement and at this point we're down to three — two starters.
"I think we have to have more senior aggression down the stretch. I want them to be the guys to want the ball and make the plays. And I don't know that that's happened in our losses."
The shift in playing time hasn't appeared to adversely affect team chemistry, largely because players like Schlatter have accepted their reduced roles with class and without complaint. But the reality of 2005 in no way reflects their hopes from the summer of 2004.
"We envisioned five seniors. This is our year," Kelati said. "We've been here through it all, most of us. With Coach here last year, we are the returners. So we felt like it was on our shoulders. We wanted to start the season and finish it with a statement. For Shami, it's unfortunate with the back — and Isaiah, too. It wears on you a little bit. It's like, dang, that's not what you planned. But you've just got to go with it."
Bennett agrees that his seniors, even while wishing for more assertiveness, have helped bring the newcomers into the fold this season without alienating them. The current senior class is depleted; it's unlikely to make the school's first NCAA Tournament in 11 years. But it is the first group that Bennett has had significant time with at WSU, and in that could come their greatest contribution.
"I think they've handled it well," Bennett said. "I singled them out a lot. I spent a lot of time last year talking to Chris and Shami and Thomas. I said, 'Hey, you're the nucleus. And you have to bridge the gap between the old and the new. I'm going to depend on you and I don't know what your roles are going to be.'
"I know some seniors, they may wonder, 'Well, I'd like to have a great senior year and I'd like to have more experience around me.' But I've never heard that. Not at all."
Local journalism is essential.
Give directly to The Spokesman-Review's Northwest Passages community forums series -- which helps to offset the costs of several reporter and editor positions at the newspaper -- by using the easy options below. Gifts processed in this system are not tax deductible, but are predominately used to help meet the local financial requirements needed to receive national matching-grant funds.
Subscribe to the sports newsletter
Get the day's top sports headlines and breaking news delivered to your inbox by subscribing here.
---