News > Business
From Hawaiian orchids, the flavor of vanilla
Sun., Jan. 23, 2005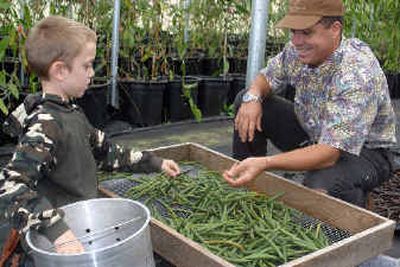 PAAUILO, Hawaii — Jim Reddekopp took the challenge of cracking a virtual world monopoly to become the only commercial grower of vanilla in the United States.
Reddekopp admits he knew little about farming or about vanilla when he started Hawaiian Vanilla Co. seven years ago.
He and his wife Tracy kicked around several other ideas, including saffron, before settling on vanilla, the flavoring essence taken from the seed-pods of vanilla orchids.
"We're risk-takers. We live on faith," he said. "I knew I loved the rural lifestyle and I knew I wanted to raise my children in a rural environment. I knew nothing about growing vanilla."
Vanilla orchids grow only within 25 degrees of the equator, Reddekopp said, which means Hawaii is the only place in the United States where it can flourish.
More than half of the world's crop of vanilla bean is grown in Madagascar, where a devastating cyclone last spring wiped out most of the country's chief export, pushing up the already record prices around the globe.
Other countries that cultivate it include Indonesia, Tahiti, Papua New Guinea, Uganda, India and Mexico, where it originated in the 1500s.
Because vanilla is so expensive to produce, more than 90 percent of what consumers know to be vanilla flavoring or fragrance is synthetic. The United States is the world's largest consumer of vanilla, with Europe — especially France and Germany — following behind.
The annual demand for pure vanilla is between 2,200 and 3,300 tons and is growing as consumers lean more to organic and natural products. The only natural source for true, pure vanilla is the pale yellow orchid.
This year's world crop is expected to be about 2,600 tons, Reddekopp said.
It is, however, a labor-intensive crop. Bees provide the only natural pollination, and each blossom must be pollinated by hand during a one-day blooming period.
"You need human hands to make this work," Reddekopp said.
The pods mature in about nine months, resembling green beans about 7 inches long. They are then blanched in water, which activates the enzymes — vanillin is the active ingredient — and creates the flavor, then sun-dried for three months. The beans, now dark brown, are split allowing thousands of tiny, flavorful seeds to spill out.
Much of what Reddekopp now knows he learned from Big Island orchid grower and researcher, Tom Kadooka.
Kadooka, who died Oct. 6 at age 83, began experimenting with the vanilla variety in 1941. By the time he met Reddekopp in 1997, he had much knowledge to pass on to the young man who mirrored his passion and energy.
"He was the first guy I know who shared what he did, which is very, very rare for farmers," said Reddekopp, who established a Kadooka memorial scholarship for agricultural students. "He really did all the research and I did the commercial application."
Reddekopp continues his education, recently attending a science course at Rutgers University.
He said he learned vanilla, which is nonperishable, includes 250 compounds that cannot be duplicated in a laboratory. That is one reason vanilla is the most expensive crop behind saffron.
Eight months ago, Reddekopp said, vanilla was selling for a record $275 to $300 per pound. By the end of the year, he was getting $190 per pound.
Prices are expected to rise in the coming months and years as the impact of last month's tsunami on South Asian crops is felt.
The Big Island, which is known as the "Orchid Isle," is the quintessential place for vanilla orchids. More than half of Hawaii's orchids grow there, with sales of flower and nursery products totaling $50.8 million in 2003, according to the Hawaii Agricultural Statistics Service.
Reddekopp and his family cultivate plants in a 30,000-square-foot greenhouse, turning out just 200 pounds of cured beans each year.
A recent federal grant of $296,000 from the Agriculture Department's Small Business Innovative Research program will allow Reddekopp to expand his greenhouse facility by 180,000 square feet, as well as his payroll. Currently, the company has three part-time workers.
The grant is intended to create jobs in an area still suffering since the last of the sugar plantations closed nearly a decade ago.
"It's really a Third World product that we are trying to grow in our economy," he said, noting workers in Madagascar are paid $1 day compared to about $7 per hour for U.S. farm workers.
Local journalism is essential.
Give directly to The Spokesman-Review's Northwest Passages community forums series -- which helps to offset the costs of several reporter and editor positions at the newspaper -- by using the easy options below. Gifts processed in this system are not tax deductible, but are predominately used to help meet the local financial requirements needed to receive national matching-grant funds.
Subscribe now to get breaking news alerts in your email inbox
Get breaking news delivered to your inbox as it happens.
---