Sports
Hornets win behind Dickau's career game
Sun., Jan. 23, 2005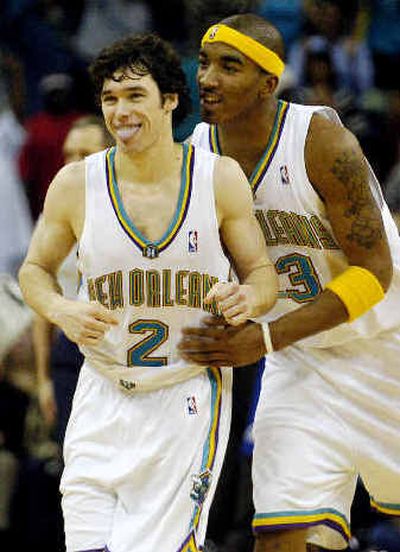 Dan Dickau was the only healthy point guard in uniform for the New Orleans Hornets – and the only one they needed.
Dickau, a former Gonzaga star, capped a career-high 27-point outing with a pair of 3-pointers inside the last 18 seconds, leading New Orleans to an 88-85 victory over the Los Angeles Clippers on Saturday night at New Orleans.
Dickau tied the game with 39.7 seconds to go after drawing a foul on a drive and hitting his first free throw. He missed the second, but Hornets forward P.J. Brown ran down a long rebound, diving over the sideline to get the ball back to Dickau. Dickau let some time run off the clock before burying a straightaway 3.
The Clippers tied the game on Bobby Simmons' high, arching 3 with 10.3 to go. But Dickau came back with another straightaway 3 over Mikki Moore with 2.1 seconds remaining. Several Hornets – and even Simmons – laughed in seeming disbelief as the crowd roared.
"It's any player's dream – you want to play as many minutes as you can," said Dickau, who logged 42 minutes, had eight assists and scored 17 in the fourth quarter. "I felt good coming down the stretch, I felt fresh. … I just wanted to keep shooting when I was open."
Dickau was fourth on Dallas' depth chart when the Hornets acquired him in exchange for Darrell Armstrong on Dec. 3.
Regular starting point guard Baron Davis, who bruised his right ankle a week ago in Toronto, missed his third straight full game against the Clippers, meaning Dickau, in less than two months, had gone from disposable in Dallas to indispensable for New Orleans, which has now won five games this month.
Wizards 95, Pacers 93: At Indianapolis, Antawn Jamison hit a driving layup with 0.4 seconds left to lift Washington to a victory over Indiana.
After Jermaine O'Neal gave Indiana a 93-91 lead with 39.7 seconds left, Gilbert Arenas hit a jumper and the Wizards forced a shot clock violation with 4.5 seconds remaining.
Bulls 100, Pistons 89: At Auburn Hills, Mich., Kirk Hinrich had 24 points and nine assists, leading Chicago over Detroit.
It was Chicago's second victory at the Palace in less than a month after not having won there in three years.
Magic 115, 76ers 111: At Orlando, Fla., Hedo Turkoglu scored 22 points, Dwight Howard added 21 and short-handed Orlando rallied to beat Philadelphia.
The Magic, missing Grant Hill due to his bruised right wrist, trailed by six with 2:02 left to play after Allen Iverson's jumper.
Iverson finished with 38 points, his most since sitting out a game two weeks ago with an ankle sprain.
Hawks 100, Celtics 96: At Atlanta, Al Harrington scored 21 points and went 6 for 6 from the free-throw line in the last 2 minutes to help Atlanta overcome a 17-point deficit and beat Boston.
Antoine Walker led the Hawks with 29 points against his former team.
Grizzlies 110, Jazz 94: At Salt Lake City, Pau Gasol scored 23 points and Shane Battier had 16 to help Memphis spoil Andrei Kirilenko's return to the Utah lineup.
Kirilenko scored two points and had two blocks in just 12 minutes in his first game after missing 26 with a sprained knee. Utah had a 6-20 record without Kirilenko.
Timberwolves 92, Trail Blazers 83: At Portland, Kevin Garnett had 14 points and 16 rebounds to lead Minnesota to a win over Portland.
Portland dropped its sixth straight game, the Blazers' longest losing streak since 2001-2002.
Cavaliers 105, Warriors 87: At Oakland, Calif., LeBron James had his second triple-double in three games, getting 28 points, 12 rebounds and 10 assists in Cleveland's victory over Golden State.
Foul play ruled out in Poier death
There was no sign of foul play in the death of Memphis Grizzlies broadcaster Don Poier, who was found dead in the team's hotel Friday before a game against the Denver Nuggets, investigators said.
An autopsy found no sign of trauma, coroner investigator Raylene Smith said. She added it could take four to six weeks to determine the cause of death after toxicology and lab tests.
Poier was sports director at KREM-TV in Spokane before leaving in 1977.
Local journalism is essential.
Give directly to The Spokesman-Review's Northwest Passages community forums series -- which helps to offset the costs of several reporter and editor positions at the newspaper -- by using the easy options below. Gifts processed in this system are not tax deductible, but are predominately used to help meet the local financial requirements needed to receive national matching-grant funds.
Subscribe to the sports newsletter
Get the day's top sports headlines and breaking news delivered to your inbox by subscribing here.
---