Sports
Jets might target Moss if Minnesota looks for a deal
Sun., Jan. 23, 2005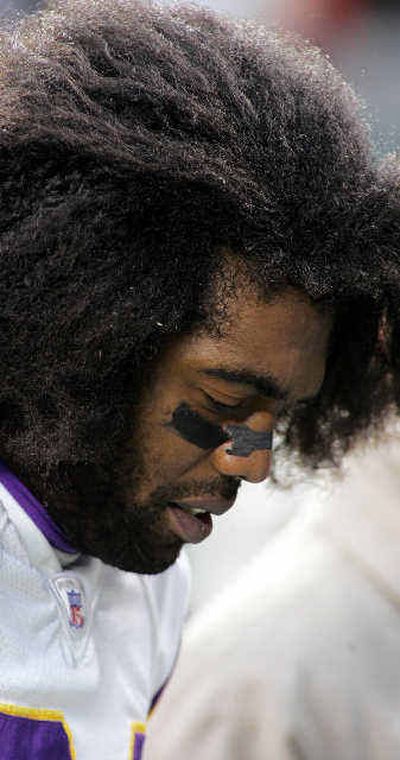 Don't be surprised if the Vikings work diligently to trade Randy Moss, the talented but temperamental receiver. And the Jets, looking to add the downfield threat they haven't had since Keyshawn Johnson, could be a contender.
Moss approached the Vikings last season and asked them to consider trading him, and the Dolphins and Jets seemed most interested. Jets defensive lineman John Abraham, under so much criticism for sitting out the playoffs to avoid further damage to his knee, was one of the chips New York may have used.
Abraham is a free agent, but the Jets insist they have no intention of letting him go.
"John is going to be with us," Jets general manager Terry Bradway said. "We have several options to make that happen and one of those would be the franchise tag. He has been a phenomenal player for us and I feel bad because he was put in an awkward situation. There was no way he could have played. He tried (in practice), he couldn't do it."
Abraham would be a godsend for a Vikings defense with a lot of room to grow, and he would feel right at home next to defensive coordinator Ted Cottrell, hired after the Jets fired him following the 2003 season.
Making a Moss trade even more likely is that the Vikings are in tremendous salary cap shape for 2005. They have a $30 million surplus, the most in the league, that would allow them to absorb his loss. He is scheduled to count $9.5 million against their cap next season. Should they trade him, he would cost $9 million, so they would save $500,000.
The Vikings are expected to want at least two draft picks and a premier player for Moss.
Local journalism is essential.
Give directly to The Spokesman-Review's Northwest Passages community forums series -- which helps to offset the costs of several reporter and editor positions at the newspaper -- by using the easy options below. Gifts processed in this system are not tax deductible, but are predominately used to help meet the local financial requirements needed to receive national matching-grant funds.
Subscribe to the sports newsletter
Get the day's top sports headlines and breaking news delivered to your inbox by subscribing here.
---