News > Nation/World
Muslims' packed hajj peaceful
Sun., Jan. 23, 2005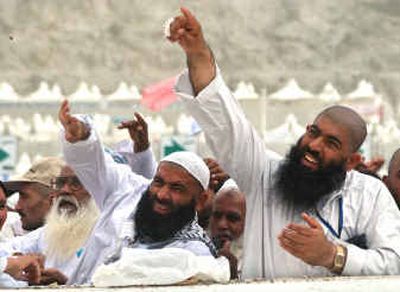 MECCA, Saudi Arabia – As rains lashed the Saudi desert, tens of thousands of drenched Muslim pilgrims welcomed the deluge Saturday as an act of God while they circled the cubic Kaaba shrine in this holy city's Grand Mosque, the final rite in the annual hajj pilgrimage.
A record 2.56 million people attended this year's hajj, which all able-bodied Muslims must perform at least once in their lifetime if they can afford it. Saudi authorities, jittery over fears that terrorists may strike the event, said increased security and improved crowd management saw the pilgrimage go off without a hitch.
Giant gray storm clouds dumped rain on the white-robed pilgrims, many wearing plastic shopping bags on their heads and tearing holes in garbage bags to fit their arms and legs through to stay as dry as possible.
While lightning cracked overhead, thousands of the faithful in Mina, about four miles from Mecca, opened umbrellas to shield them from the rain while hurling rocks at rectangular, billboard-size stone blocks symbolizing the devil.
"Rain is always a blessing and for it to fall so hard at the end of our hajj rituals means our sins are washed away and God has accepted our prayers," said a soaked Mohamed Jamal Khan, from the Pakistani city of Peshawar, before a gust of wind blew away the plastic bag the 42-year-old had tied to his head.
After the faithful completed the rock-hurling ceremony, hundreds of buses started ferrying pilgrims from 160 countries along water-clogged roads back to Mecca, where they enter the open-aired Grand Mosque to begin performing a farewell circling of the Kaaba, which Muslims around the world face during their five daily prayers.
The pilgrims began their hajj rituals in Mecca before Wednesday's climax at Mount Arafat, where Islam's seventh-century prophet Muhammad gave his last sermon in A.D. 632. Some have spent three days at the stoning ritual in Mina.
Many of the non-Saudi pilgrims are expected to remain in the country for several days to visit holy sites, including the holy city of Medina where Muhammad lived. The farewell visit to Mecca's Grand Mosque is traditionally the last event to be performed by pilgrims before they depart the country.
Local journalism is essential.
Give directly to The Spokesman-Review's Northwest Passages community forums series -- which helps to offset the costs of several reporter and editor positions at the newspaper -- by using the easy options below. Gifts processed in this system are not tax deductible, but are predominately used to help meet the local financial requirements needed to receive national matching-grant funds.
Subscribe now to get breaking news alerts in your email inbox
Get breaking news delivered to your inbox as it happens.
---