Sports > Outdoors
Survival of the sleepless
Sun., Jan. 23, 2005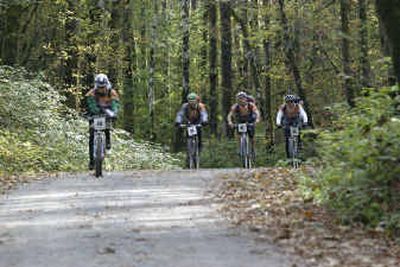 A Spokane man got more than he expected out of his first expedition-length adventure race: bruises, blisters, fatigue and a field of new acquaintances, both real and imaginary.
"My parents came to the finish and my mother said I looked like I was coming out of a concentration camp," said Brian Molsberry, 25, describing the end of his weeklong ordeal in the 2004 Subaru Primal Quest last September.
Even at that, he was in better shape than the little guy who clung to his kayak paddle for the last leg of the race.
Molsberry graduated in 1997 from Ferris High School, where he played soccer and football. Now he's a ski patroller near Park City, Utah, during winter and a Washington sea kayaking guide based on San Juan Island during summer.
No arm twisting was required to recruit Molsberry to a four-person coed team for a 395-mile race course that required ocean kayaking, river paddling, orienteering, mountaineering, mountain biking, scootering, trekking and portaging. Teams were expected to spend 7-10 days completing the course — with no designated time for sleep.
"I hadn't thought that much about the sleep part," he said in a telephone interview from his job at Deer Valley Resort in Utah.
Primal Quest debuted with a race near Telluride, Colo., in 2002, followed in 2003 by an event based at Lake Tahoe, Calif. The 2004 even was based out of Orcas Island with a route that extended high up the glaciers of Mount Baker and back.
Primal Quest pits co-ed teams in the ultimate sports arena of unforgiving natural terrain and unpredictable weather. Sleep is optional, and many teams don't lie down for more than an hour or two in the first 3-5 days.
"It's pretty intense," Molsberry said.
Teams don't enter the race on a whim, owing to the difficulty if not the $4,000 entry fee.
The 2004 Primal Quest was to be the toughest course ever, with 75 miles of sea kayaking and a grueling 11-mile route of glacier travel.
Molsberry got the call from friends Garrett Madison and Michael Horst, who guide with Rainier Mountaineering Inc. They had already landed a sponsor and recruited Cathy Caenepeel of British Columbia, who also worked for RMI.
The three guides had climbed to the summit of Washington's highest peak a collective total of 175 times.
With their experience on the glaciers and Moslberry's skill with sea kayaking and knowledge of the ocean currents around the San Juans, Team Necky was considered the new team to watch in their adventure racing debut.
But their top competition came from athletes with world-class credentials who virtually made their livelihood from adventure racing.
"I was a little intimidated at first looking at the roster and a long list of athletes who are basically pros," Molsberry said. "But they were really cool. We talked to a lot of the top teams in the world and they were giving us pointers."
As they gathered in Western Washington in September, participants from the 56 teams had to demonstrate competence with basic skills, such as sea kayak self rescue, glacier travel and orienteering.
"You had to have all the required gear and know how to use it," Molsberry said. "I was comfortable with it all. In groups you had to talk through scenarios on things such as whitewater rescues. Navigation is constant thread through the whole thing."
An entire Washington State Ferry was chartered to take the competitors to the start on Orcas Island, where the race began by sea kayaking 50 miles around Orcas and to the mainland. Immediately they shouldered their gear and powered into a rugged 9-mile trek that took them into the night.
To cover a 16-mile section of paved roads, they had the option of using roller blades — fast but risky — or scooters —slower but safer considering the gear they had to carry.
The scooters were beefed up with a road bike tire in the front and a mini bike tire in the back.
"It was really cold, but still I was glad it was at night because that way no one could see us," Molsberry said. "You're not going to get anyone's vote for the coolest kid on the block riding one of those things. I felt pretty uncoordinated. On flats and downhill they were efficient, but going uphill I sometimes had to hop off and just run."
Finishing consistently in the top 2 percent of the Lilac Bloomsday Run, Molsberry has pretty much proven he can run, and he got a chance on the next leg. For 10 miles, each four-person team was given two mountain bikes. The members had to strategize, determining who would ride and who would run.
Already weary and sleep-deprived, the teams reached a checkpoint at which everybody got a bike for the grueling 37-mile mixed mountain biking that included more than 5,000 feet of elevation gain.
"I think it was Cathy who started hallucinating first from lack of sleep," Molsberry said. "She saw Santa Claus standing beside the road with water for us.
"One of the other riders saw a giant 4-foot-long lizard with an alligator head running down the middle of the road."
Team Necky, named for the kayak company that sponsored them, tried to eat and catch short naps when meeting with their support crew at transition points.
"We loaded ourselves with Powerbars and sandwiches and tried to pound down calories every chance we had, but we still couldn't get enough energy in," Molsberry said. "We started begging for bacon cheeseburgers and that's what our support crew had for us at the next stop.
"A couple of times we just lay down and napped on the ground while out on the course between checkpoints. That was pretty cold. All we had was space blankets.
"But we had to stop during a mountain biking leg because a couple of teammates were falling asleep in their bikes. We tried riding behind and yelling at them when they started swerving, but it was getting too dangerous. Sometimes they were getting too close to the edge of the road.
"We slept on a gravel road, wearing all our clothes and wrapped in space blankets and woke an hour later shivering uncontrollably. We had no choice but to hop on our bikes and get moving again.
"The other time we stopped for a nap, we put all four space blankets over us and slept together in one bundle. I was on the outside, unfortunately."
The first race casualty was not a participant, but rather a segment of the course.
After a storm dumped a deep layer of loose snow on Mount Baker, race organizers canceled the mountaineering segment for safety considerations.
"Team Necky, a group of professional mountain guides and one sea kayaking guide from Washington State, may miss their opportunity to shine," the official press release said at the time.
Too tired to worry much about being denied their forte, Molsbery and Team Necky had continued on a mountain biking segment when they learned of tragic news involving the two leading teams, which were ahead in the rugged 12-mile cross-country orienteering segment.
Nigel Aylott, 38, of Melbourne, Australia, was killed when a 300-pound bolder accidentally dislodged by another competitor tumbled down a steep slope and struck him in the head.
Aylott was a veteran of adventure racing and considered to be one of the world's best backcountry athletes.
The race was suspended for two days. But Aylott's family and teammates urged race organizers to continue the event, so they did. Because of lost time, organizer shortened some remaining segments of the race, cutting the racing time for the 10-day event by 36 to 72 hours.
According to a feature article posted on the race's Web site, Aylott's was on the only team that had not slept since the race began.
The race continued with more mountain biking, whitewater paddling down the log-jammed Skagit River, a portage and the final sea kayak paddle back to Orcas Island.
The last paddle was only 22 miles, a distance Molsberry had easily done many times before. This time, however, he and his teammates were doing it on vapors of energy and a huge sleep deficit.
"Looking back, sleep deprivation and the hallucinations were pretty entertaining, but I didn't see it that way at the time," he said.
"You'd see something and you'd know that's not real, but it seems so real.
"I didn't have too much trouble until the very last night, sea kayaking back from Anacortes to Orcas Island. By the time I finished I'd had 10 minutes of sleep in the last 50 hours and I was struggling.
"It was a beautiful clear September night. I'd look up and each star would grow branches and sprout leaves, and then it would be like looking up through a canopy of a jungle and we'd catch ourselves steering the kayak to avoid the roots of big cypress trees that didn't exist.
"A little elf guy showed up on my paddle. He was a foot tall with lots of blond hair and pointed ears. With each stroke he would go under water on the paddle and then come up and shake his head like a dog and look at me as if to say 'What's the matter with you?' "
Brian's parents, Bill and Dianne Molsberry of Spokane, suffered sleep deprivation just helping the support crew for a weekend.
"While we were going cross-country, they had to do a lot of driving to go around to checkpoints," Brian Molsberry said. "Our support crew worked their butts off. Toward the end, parents came up to spell them off so they could get a little sleep, too. They were all really tired and having trouble not falling asleep at the wheel."
Team Necky finished 18th in the field of 56 teams, too far back to get a piece of the $250,000 purse.
They earned the respect of many experienced competitors, organizers said.
"None of us had done any adventure racing," said Molsberry, who had dropped nearly 20 pounds off his 5-foot 10-inch 175-pound frame during the week. "We came in as complete virgins. It was a trial by fire, and we didn't get burned."
Local journalism is essential.
Give directly to The Spokesman-Review's Northwest Passages community forums series -- which helps to offset the costs of several reporter and editor positions at the newspaper -- by using the easy options below. Gifts processed in this system are not tax deductible, but are predominately used to help meet the local financial requirements needed to receive national matching-grant funds.
Subscribe to the sports newsletter
Get the day's top sports headlines and breaking news delivered to your inbox by subscribing here.
---