News > Spokane
Taking luxury along for the ride
Sun., Jan. 23, 2005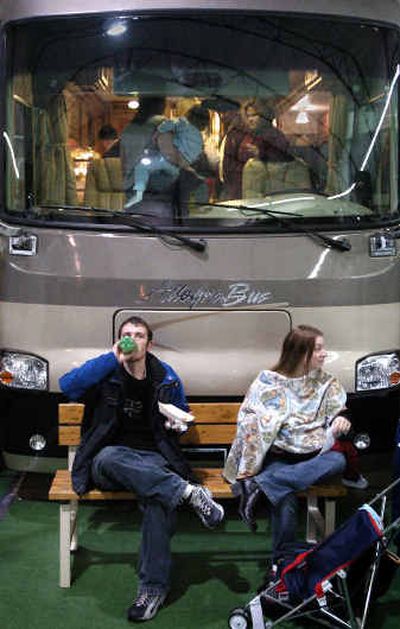 Dreams took to the open road Saturday when people with travel ambitions hooked up with the latest in recreational vehicles at the Spokane fairgrounds.
"There are some that are absolutely gorgeous," said Wes McCoy of Lewiston.
He and his wife, Sharon, came to RV Show 2005 looking for something in the 30-foot range, a size they believe is short enough to fit into most park spaces but spacious enough for long trips.
The couple plan to shop around and make a final purchase this spring.
"They've just got a lot here. It's a good place to come and look," Wes McCoy said.
The weekend show at Spokane County Fair and Expo Center features seven buildings packed with luxury buses, fifth wheels, campers, tent and travel trailers and accessories.
Families and snowbirds traipsed through vehicles ranging from $4,500 tent trailers to the Allegro Bus, a luxury RV that retails for more than $200,000.
The bus boasts an Architectural Digest-like interior – complete with natural cherry wood cabinets and an Italian porcelain kitchen floor.
However, some visitors were more attracted to its 32-inch plasma screen television and his-and-hers bathroom sinks.
"It goes from one end to the other. That's the beauty of it," said Steve Cody, a show promoter.
Cody said he expects more than 8,000 people to visit the show, which runs through today.
Tom Kirk, a sales representative for Tiffin Motorhomes, Allegro's manufacturer, said luxury buses typically appeal to two types of customers:
People who start with less expensive vehicles and trade up and those who jump in with both feet.
"Sometimes people are looking to totally change their lifestyles," explained Kirk, adding that some customers sell off lake cabins and downsize homes to afford the dream machines.
The majority of the show's RVs cost less than $100,000, including the Montana, a fifth wheel with French doors, an electric fireplace and elegant oak trim work and cabinetry throughout.
A rig called the Toy Hauler combines living accommodations with a rear storage room for motorcycles, quads and dune buggies.
Cody said RVs have become so popular that luxury parks with elaborate water parks are springing up to accommodate the large, upper-end vehicles.
In spite of a national economic downturn in 2001, Cody said the 17-year-old show's attendance and sales continue to grow.
Plus, Cody said, the show has developed a loyal core group of local dealers.
Jason Mundell of Spokane Valley purchased a vehicle called Off Road. The Humvee of tent trailers, it sits higher off the ground than typical tent trailers and has heavy-duty radials and a front motorcycle rack for enthusiasts who travel off the beaten path.
"We do a lot of motorcycling and off-road stuff and this kind of fits into what we do," Mundell said.
Daughter Brittani Mundell, a third-grader at Opportunity Elementary School, saw other possibilities for the trailer.
"I can have my friends come over and stay with us because it has, like, a three- or four-kid bed."
Del Erickson and his wife, Eunice, thought Cambridge, an impressive fifth wheel with 400 square feet of living area, would be more suitable for life on the road than weekend travel.
While the two couldn't help but admire the maple woodwork, fireplace and flat-screen television, Del pointed out that it was a bit lavish for weekend travelers.
"If you're going to have something like this, you've got to live in it. You can't just use it occasionally."
Local journalism is essential.
Give directly to The Spokesman-Review's Northwest Passages community forums series -- which helps to offset the costs of several reporter and editor positions at the newspaper -- by using the easy options below. Gifts processed in this system are not tax deductible, but are predominately used to help meet the local financial requirements needed to receive national matching-grant funds.
Subscribe now to get breaking news alerts in your email inbox
Get breaking news delivered to your inbox as it happens.
---