News > Nation/World
U.S. rushes aid to Guyana
Sun., Jan. 23, 2005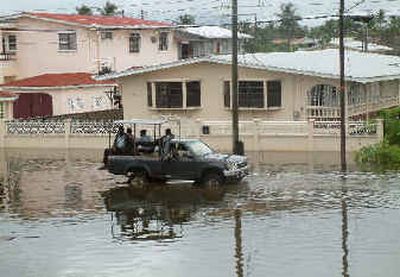 GEORGETOWN, Guyana – The U.S. government is rushing relief supplies to Guyana, the U.S. ambassador said Saturday, after heavy rains and flooding have killed at least six people and displaced thousands of others.
Drainage pumps, food and other supplies were expected to arrive as early as next week, U.S. Ambassador Roland Bullen told The Associated Press in a telephone interview.
The Defense Force, meanwhile, was standing by to evacuate as many as 20,000 people from towns east of the capital, Georgetown, said Brig. Gen. Edward Collins, the army chief.
More than 40 inches of rain have fallen in the former British colony since Dec. 26, with more than 27 inches this month. About 8 inches is normal for January.
President Bharrat Jagdeo has said the floods have affected more than half the population of 750,000. Most Guyanese live on the low-lying coast. He has appealed to the U.S. Southern Command to have U.S. troops bring in power generators and small boats.
Waters were rising in several towns, suggesting two dams east of Georgetown were spilling over, officials said. Another dam northwest of the capital also was in danger of bursting.
Collins said residents could be moved to a military camp about 30 miles south of Georgetown. The evacuation could come as early as next week.
"We are just waiting on the order, but we are ready," he said.
In some western districts of the capital, engineers worked with residents to seal more than a dozen breaches in a dam where torrents of black water had poured onto farmlands.
Many farmers said they expect to lose cassava and fruit trees.
"I am living in one room, and my 59 chickens (are) in another," said farmer Pamela Persaud, 51.
The heaviest rains in a century already have forced thousands of people from homes in Georgetown and coastal villages. Most are staying with friends or relatives, though at least 5,000 are sheltering in schools, churches and public buildings.
Local journalism is essential.
Give directly to The Spokesman-Review's Northwest Passages community forums series -- which helps to offset the costs of several reporter and editor positions at the newspaper -- by using the easy options below. Gifts processed in this system are not tax deductible, but are predominately used to help meet the local financial requirements needed to receive national matching-grant funds.
Subscribe now to get breaking news alerts in your email inbox
Get breaking news delivered to your inbox as it happens.
---