News > Features
When it comes to life, the golden rule is Newton's law
Sun., Jan. 23, 2005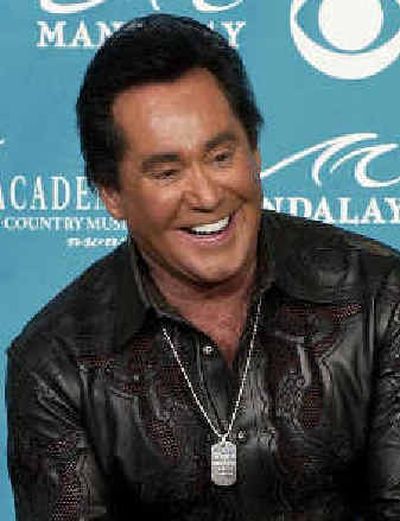 You might credit a variety of reasons for the longevity of Wayne Newton's career, but if you ask him, he says it's the friends in his life.
One of those was Tom Chauncey, the man who owned the local television station in Phoenix where Newton worked as a kid.
At 15 Newton left for the brighter lights of Las Vegas. He was still there, working with his older brother, doing six lounge shows a night, six days a week, when Chauncey phoned.
"Jackie Gleason was coming through on his famous train ride, going back on the air with CBS and this gentleman wanted to know if I'd come entertain at the luncheon," Newton recalls.
"Well, I'd do anything for this man because he was like a surrogate father to me. So I drove down after six shows in Vegas – because we couldn't afford to fly – the next day. And Mr. Gleason stood up after the show and said, 'Don't go on any other show until you go on mine.'
"I'd never done national television nor did I have a hit record, so to get that kind of break was one in 100 million," Newton grins, his round face rosy against his pale lavender shirt and silk lavender tie.
From then on it was Newton's prodigious talent and the kindness of strangers that elevated him to the top of the heap.
Bobby Darin produced such hits as "Danke Schoen," "Red Roses for a Blue Lady" and "Summer Wind"; people like George Burns, Jack Benny and Danny Thomas supported him; and when he'd been accused of Mafia connections after he and a partner had purchased the Aladdin Hotel in Las Vegas, it was someone he'd never met – evangelist Billy Graham – who came to the rescue.
Newton's latest endeavor – a gentle reality series, "The Entertainer," premiering tonight on E! Entertainment Television (10 p.m., cable channel 64 in Spokane, 53 in Coeur d'Alene) – is one way of returning those favors.
The show features singers, comedians, performers of all kinds competing against each other for the chance to perform with Newton and to win a headlining role in Las Vegas.
"I wanted to do it to offer a showcase to professional talent who don't fall into the category of demographics, who can't get a break," he says.
"We had a circuit we could work. We had places to learn like the Copacabana, Chez Paris, the Sunset Strip. Those places don't exist anymore. … The youth of our country has no place to learn, because by the time they even get close to learning it, it's on to the next hot act of the day."
Still headlining across the country, performing for the troops ready to embark for Iraq, Newton admits that time is his most perishable asset.
Still, he doesn't want to slow down.
"One of the things that makes me happiest is, I'm happiest when I'm working and realize that about me," he says. "I would leave it before it left me."
The birthday bunch
Actress Chita Rivera is 72. Actor Rutger Hauer is 61. Actor Richard Dean Anderson ("MacGyver") is 55. Singer Anita Baker is 47. Actress Gail O'Grady ("American Dreams," "NYPD Blue") is 42. Actress Mariska Hargitay ("Law & Order: SVU") is 41. Actress Tiffani Thiessen ("Beverly Hills, 90210") is 31.
Local journalism is essential.
Give directly to The Spokesman-Review's Northwest Passages community forums series -- which helps to offset the costs of several reporter and editor positions at the newspaper -- by using the easy options below. Gifts processed in this system are not tax deductible, but are predominately used to help meet the local financial requirements needed to receive national matching-grant funds.
Subscribe now to get breaking news alerts in your email inbox
Get breaking news delivered to your inbox as it happens.
---