Sports
Wilkens resigns as Knicks coach; Williams again given interim tag
Sun., Jan. 23, 2005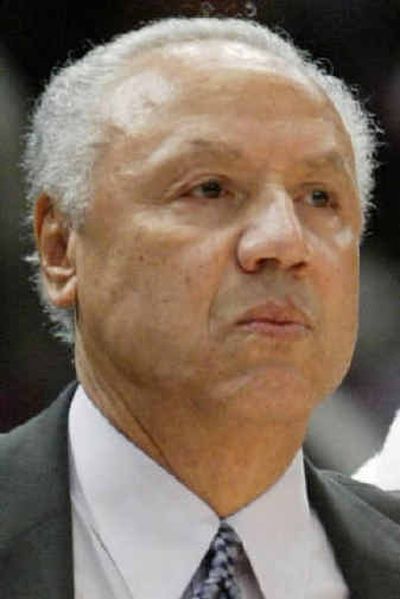 GREENBURGH, N.Y. — Lenny Wilkens finally had enough.
The 67-year-old Hall of Famer resigned as coach of the salary-cap challenged New York Knicks on Saturday, likely ending a record-setting career that began in 1969 when he was still an All-Star guard with the Seattle SuperSonics.
"This is a difficult decision for me to make at this time because I really wanted to help the New York team get back to being an elite team," Wilkens said in a prepared statement. "But after a lot of consideration, I feel it's the right time for me, the right move and best for all involved."
Knicks president Isiah Thomas, who insisted that he would not have fired Wilkens despite the team's recent slide, turned over the club to assistant coach Herb Williams for the rest of the season.
The resignation, the first time Wilkens has stepped down or been fired during a season, followed a lengthy meeting with Thomas after the Knicks' last-second home loss to Houston on Friday night, their ninth defeat in 10 games. Thomas also said Wilkens is dealing with off-court issues.
"It's a very difficult day for myself and for the players," Thomas said. "He's a great man and a great coach. We'll miss him."
Wilkens is both the winningest and losingest coach in NBA history, going 1,332-1,155 in 32 seasons with Seattle, Portland, Cleveland, Atlanta, Toronto and New York.
He won his lone NBA title with the Sonics in 1979 and coached the United States to the gold medal in the 1996 Atlanta Olympics.
The 46-year-old Williams spent the last seven seasons of his 18-year playing career with the Knicks and joined the coaching staff in December 2001.
Williams coached the Knicks for one game — a victory over Orlando — a year ago between Don Chaney's firing and the hiring of Wilkens.
Local journalism is essential.
Give directly to The Spokesman-Review's Northwest Passages community forums series -- which helps to offset the costs of several reporter and editor positions at the newspaper -- by using the easy options below. Gifts processed in this system are not tax deductible, but are predominately used to help meet the local financial requirements needed to receive national matching-grant funds.
Subscribe to the sports newsletter
Get the day's top sports headlines and breaking news delivered to your inbox by subscribing here.
---