A&E > Entertainment
Get to know her, but beware of the friend zone
Fri., Jan. 28, 2005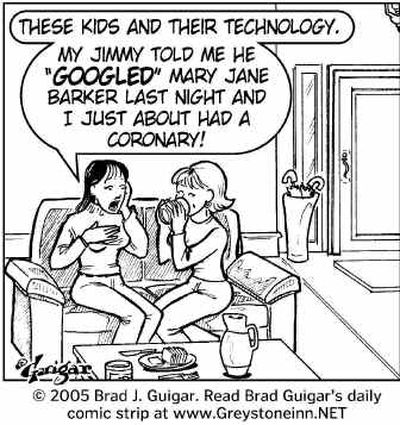 Q: I'm a 24-year-old male who is shy when it comes to asking a female for a date. Could you guys give advice on how to break the ice?
Steve: Forget the date. First get to know her. Have casual conversation. Do some research. Google her. Find out her interests. After you get to know each other, it will be easy to ask her out.
Mia: Yes, but if you spend too long getting to know her, you could get trapped in the friend zone and she won't think of you as a romantic possibility. So don't wait too long.
Q: I'm a 24-year-old guy who is seeing a 46-year-old woman. We've been dating for about eight months now. Recently, I've seen a lot of questions about younger/older relationships. Some of your opinions were OK, but what really matters is if the people make each other happy. There are some things she does for me that a girl my age wouldn't do – especially the girls today. That's the difference between a woman and a girl. You have to hear what's in your heart to make it right.
Mia: Whatever makes you happy, babe. If you want to date a pre-menopausal chick instead of girls your own age, knock yourself out.
Steve: Hey, it works for Demi Moore and Ashton Kutcher.
Q: My boyfriend says our sex will be better than ever if I will join him in taking Ecstasy. I'm really not into drugs and have heard of some people that had bad experiences taking "E." I don't want to seem unhip, but I really don't want to do this. What should I tell him?
Mia: "E" is supposed to be a very sensory drug, so it might heighten some sensations during sex. But that said, I don't think it will really make sex more intimate or bring you closer together. And if you're not comfortable, then you shouldn't do it. Tell him there are lots of better ways to have amazing sex drug-free. Maybe you can come up with some together.
Steve: Just say "No." If he loves you, then he'll respect your wishes.
Q: My friend and I have a difficult time hooking up because his retired father lives with him, and I live pretty far from him.
We both work downtown, so we do get to see each other often during the day for lunch and dinner. Neither of us can afford downtown hotels.
Any suggestions on where we can get together that isn't tawdry?
Mia: Do you have a car?
Steve: I had a '61 Rambler with front seats that went horizontal right down to the back seat, turning the thing into a bed on wheels.
But you did say you wanted something that wasn't tawdry.
I suggest buying his dad a ticket to the movies, thereby leaving you alone for a couple of hours.
Local journalism is essential.
Give directly to The Spokesman-Review's Northwest Passages community forums series -- which helps to offset the costs of several reporter and editor positions at the newspaper -- by using the easy options below. Gifts processed in this system are not tax deductible, but are predominately used to help meet the local financial requirements needed to receive national matching-grant funds.
Subscribe to the Spokane7 email newsletter
Get the day's top entertainment headlines delivered to your inbox every morning.
---