A&E > Entertainment
Hard 7 plays 'Hardball' over aquifer fuel spill
Fri., Jan. 28, 2005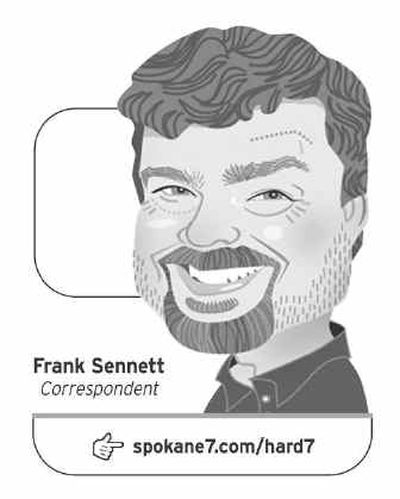 Burlington Northern and Santa Fe Railway Co. head honcho Matt Rose apparently couldn't find time to reply to my letter asking what his personal pledge to protect our aquifer means now that the railroad's diesel refueling facility has sprung a leak on Idaho's Rathdrum Prairie.
Rose directed Mark Stehly to address my concerns, and had BNSF flack Gus Melonas deliver the letter. We were eager to print a response from Rose, but the note from his assistant VP didn't smell so sweet. You can read the full text online at spokane7.com/hard7, but I'll just hit the low points here:
"The wastewater system from which the leak occurred was immediately isolated, pressure tested, and taken off line." In fact, according to Stehly's testimony to the Kootenai County Commissioners last Friday, workers wasted time trying to unblock a phantom clog before discovering the unprotected plastic pipe had been crushed, probably by a construction crane.
"It never came to anybody's mind that we would have a broken pipe," Stehly testified. Of course, who would think heavy machinery could rupture a PVC pipe? That's clearly outside the scope of human imagination. And who would have thought to test the system before starting it up? Not the rocket scientists at BNSF.
More from the letter: "There will be changes and improvements to the wastewater collection system." But in his testimony, Stehly detailed no specific upgrades. Under intense questioning after the meeting, he refused to preview possible fixes. "You're asking me to step outside the process," he kept saying, referring to a consent decree the railroad will negotiate with the Idaho Department of Environmental Quality.
BNSF's idea of apologizing is to keep us in the dark for six more months about its upgrade plan for this woefully inadequate system. It's not a state secret. This is our water. But the railroad still thinks it's calling the tune to this dance.
Until the mystery upgrades are in place, chemical-laced wastewater (and any spilled fuel) will be removed by vacuum trucks – a practice the IDEQ official flatly called "dangerous." (He clarified in a later phone conversation he meant it's more dangerous to workers, not the environment. I'm following up the issue with BNSF.)
Stehly's letter also asserts it "is simply not true" that BNSF has been slow to release information. I read that line an hour after he refused to share even one potential pipe fix under consideration. And when Post Falls Mayor Clay Larkin asked – "on behalf of the public" – to attend a site inspection planned for the compliant commissioners, Stehly brushed him off. "That would be up to the commissioners," he said. BNSF doesn't have the authority to invite Larkin into its own facility? Tell us another one.
Why is the depot still operating without a pipe system? Stehly said the refueling platform has enough storage capacity to hold any conceivable spill. How much capacity? "Lots and lots," he offered.
"Is that what you want me to tell our readers?" I asked. "Lots and lots?" Stehly blanched and asked a fellow BNSF employee for the specific capacity. "Enough to hold the fuel from every car on the platform," the man said. In a room packed with railroad staffers, no one could detail exactly how big a spill the platform can handle. That inspires confidence.
Later last Friday, I e-mailed Melonas to ask again what upgrades are under consideration – and what the railroad has to say about IDEQ's characterization of its vacuum-truck activity as dangerous. I was still awaiting a reply Tuesday afternoon.
Turns out Melonas was complaining to my editor that I'd been rude to Stehly. For the record, I merely asked tough questions he wouldn't answer. But the spokesman also purposely deleted my follow-up e-mail. That action speaks volumes about the railroad's commitment to addressing legitimate public safety concerns. I re-sent the questions Tuesday and hope to bring you a response next week.
The BNSF wrecking crew degraded our aquifer by installing an inadequate spill-handling system and then failing to test it before flipping the "on" switch. Now they say "trust us" instead of sharing potential fixes. And they think I'm rude?
Local journalism is essential.
Give directly to The Spokesman-Review's Northwest Passages community forums series -- which helps to offset the costs of several reporter and editor positions at the newspaper -- by using the easy options below. Gifts processed in this system are not tax deductible, but are predominately used to help meet the local financial requirements needed to receive national matching-grant funds.
Subscribe to the Spokane7 email newsletter
Get the day's top entertainment headlines delivered to your inbox every morning.
---