News > Business
Magazine feels right at home
Fri., Jan. 28, 2005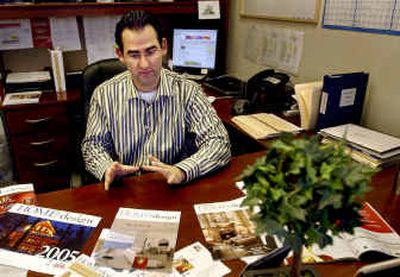 COEUR d'ALENE — Marital discord erupted when Brandon Lee tried to throw out his wife's stash of home decorating magazines.
As his sputtering spouse plucked the magazines out of the recycling bin, Lee protested, "But honey, you've had these for more than a year."
His wife showed him a stenciling project she liked in the first magazine. The second had a comforter she wanted; the third a recipe she planned to try.
Lee, a marketing executive, was awed by his wife's loyalty to dusty stacks of Sunset Magazine, Southern Living and Better Homes and Gardens. The incident became the genesis for Home by Design.
The Coeur d'Alene-based company produces six glossy magazines each year, featuring recipes and stories on topics like bathroom makeovers, do-it-yourself living room designs, and planting trees for fall colors.
But Home by Design isn't your typical home-decorating magazine. It's a marketing piece for Realtors.
Realtors buy subscriptions to send to their clients as a way to build loyalty and generate referrals. Their picture appears on the front cover. They also get three inside pages to promote themselves.
"We brand it as their own personal publication," Lee said. "The idea is that the Realtor is so successful they own their own home and décor magazine."
Gail Hartnett, a Boise Realtor, sends out 300 copies of the magazine to past clients every year.
"As soon as the first issue hit the ground, I got a call from someone from California who was moving to Idaho," she said. "It was a referral from someone I hadn't heard from for a long time."
Hartnett's new client bought a $300,000 home in Eagle, Idaho.
"It's paid for itself over and over and over," said Diane White, a Realtor from Uplands, Calif.
She sends out about 50 subscriptions of Home by Design. The magazine's long shelf life keeps White's picture and phone number in front of past clients, so they remember to recommend her to their friends.
Realtors in 50 states and Canada buy the magazine, which Lee launched from his basement in late 2002. The majority – 80 to 85 percent – of the Realtors who buy Home by Design are women.
Women better grasp the appeal of a home decorating magazine, Lee said. It's sometimes a stretch for men.
"I explain it to men this way," Lee said. "If the person who cuts your hair every month sent you Sports Illustrated, would you go back to them again?"
Lee expects Home by Design to double its sales this year, to the $6 million range. His staff of 25 is outgrowing leased space on Ironwood Drive. A new headquarters is under construction in Hayden.
Lee waved off-handedly at boxes piled in the hallway. Space shortages mean that he shares the executive office with another staff member. The new building has room for 60.
Home by Design magazines are created about six months in advance. The June issue is under production; the staff is already brainstorming for fall.
Lee gathers story ideas from a pool of 400 interior designers, home builders and landscape architects, who keep him abreast of new projects. The recipes come from a chef in Bend, Ore. Freelancers write the magazine's stories and take the pictures. Lee's wife, Meghan Lee, has the final say on editing and design.
Home by Design grew out of Lee's previous marketing experience.
He paid his way through graduate school at Southwest Texas University with a sales and marketing job at a soccer ball manufacturer. After earning his master's degree in organizational development, Lee worked in marketing in California.
He left to start a dot.com with several partners. Their idea – on online pet supply store – never took off. Their marketing tool – Healthy Pet Magazine – did. Veterinarians bought subscriptions for their clients, and sent personalized reminders about when vaccinations for the clients' cats and dogs were due.
Lee and his partners sold Healthy Pet Magazine in 2000. He stayed two years to run the company, before moving to North Idaho to launch Home by Design.
He projects rapid growth for the company, even if the nation's booming real estate market cools
"I actually think business will grow more when the real estate market slows down," Lee said. "People will be more aware of the need for marketing."
Local journalism is essential.
Give directly to The Spokesman-Review's Northwest Passages community forums series -- which helps to offset the costs of several reporter and editor positions at the newspaper -- by using the easy options below. Gifts processed in this system are not tax deductible, but are predominately used to help meet the local financial requirements needed to receive national matching-grant funds.
Subscribe now to get breaking news alerts in your email inbox
Get breaking news delivered to your inbox as it happens.
---