News > Spokane
Spokane Valley hot rod may race to auction record
Fri., Jan. 28, 2005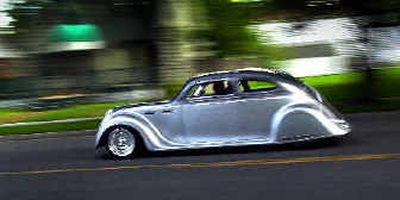 A Spokane Valley-built hot rod is expected to redefine "precious metals" Saturday by selling for as much as $500,000 at the prestigious Barrett Jackson Auto Auction in Scottsdale, Ariz. The sale will be nationally televised on the Speed Channel sometime between 4 p.m. and 9 p.m.
If it does sell for a half-million, Jack and Susan White's 1936 Chrysler Airflow would be the highest priced hot rod ever auctioned. The current record holder, a 1938 Lincoln Zephyr that sold for $432,000 last year, was also from Spokane Valley.
The Airflow, one of only four known to exist, is vying for top bid against a handful of other custom creations and one-of-a-kind cars. Its top competitor is a hand-built, custom roadster known as "Whatthehaye," built by legendary designer Boyd Coddington.
But the Airflow is the only car on the auction block in competition for America's Most Beautiful Street Rod, the Heisman Trophy of the mechanized world. It has a chesty, V-10 Dodge Viper motor, chrome from grill to tailpipe, and a 40-inch plasma TV mounted to its trunk.
Both the Airflow and Zephyr were collaborative creations of Tim's Hot Rods in Greenacres and Extreme Customs of Otis Orchards. Shop owner Tim Stromberger and his wife, Arlene, flew to Arizona on Thursday so Tim could personally pop the hood when the Airflow is up for bid. They'll meet the Whites, who are already at auction and could not be reached for comment.
Local journalism is essential.
Give directly to The Spokesman-Review's Northwest Passages community forums series -- which helps to offset the costs of several reporter and editor positions at the newspaper -- by using the easy options below. Gifts processed in this system are not tax deductible, but are predominately used to help meet the local financial requirements needed to receive national matching-grant funds.
Subscribe now to get breaking news alerts in your email inbox
Get breaking news delivered to your inbox as it happens.
---