News > Spokane
Appearance by porn star Ron Jeremy generates some controversy at EWU
Sat., Jan. 29, 2005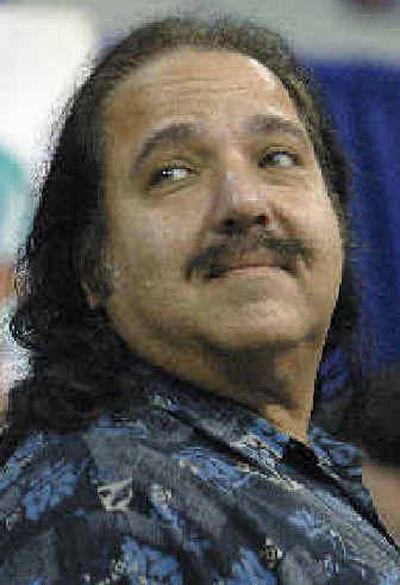 A scheduled speaking appearance by a male porn star at Eastern Washington University is causing some turbulence on the normally quiet Cheney campus.
Ron Jeremy, a portly fellow in his early 50s who is nicknamed the "Hedgehog," has been making films longer than anyone in the adult film industry. He will speak Feb. 16 about obscenity laws and other topics tied to the porn industry.
Last spring, the EWU student government approved the visit by Jeremy, which will cost the student-entertainment fund $6,500.
Student leaders had the option of bringing in Jeremy and a staunch pornography opponent to debate each other, but students chose the less-expensive option, said Danny Pugh, EWU dean of students and assistant vice president for student life.
Jeremy's appearance is part of a week dedicated to bringing attention to violence-against-women issues, Pugh said. In past talks around the country Jeremy has addressed critics' assertions that pornography is linked to violence against women.
In the past week, as ads began appearing to promote the porn-star's talk, EWU students like Anthony Marler, 35, have opposed the event.
"I've seen that (pornography) leads to violence against women or negative views against women," Marler said. "I think (speakers like Jeremy) undermine the social work program and all the female groups. He's directed movies. He's groomed girls for this industry."
Marler is working toward a bachelor's degree in social work and has a 17-year-old son who attends Running Start classes on campus.
As far as Marler is concerned, Jeremy's appearance should not happen. He and another student asked student leaders Tuesday to cancel the event. Their request was denied.
"I voiced my opinion and basically got nowhere," Marler said.
Pugh said several students have contacted his office to oppose the event. He's gotten reports of the porn-star's appearance being discussed in classes and in the residence halls.
Before students signed a contract with Jeremy, they researched how well his talk went on other campuses.
"He came highly recommended from schools," Pugh said. "My hope is we can utilize this to (start) a much broader discussion."
Jeremy did his first porn film in 1977 and directed the adult-film debut of John Wayne Bobbitt, who gained notoriety when his wife sliced off his penis in 1993.
Jeremy will be the third speaker of the school's dialogue series. The other two speakers were Preacher Moss, a comedian whose humor is racially charged, and Morgan Spurlock, who made "Super Size Me," an Academy Award-nominated documentary that tracked a month of eating only food from McDonald's.
The speaker series is designed to generate discussion, and so far that seems to be happening, Pugh said. Students didn't anticipate this kind of staunch opposition when they booked Jeremy, he said.
Not all students are offended.
"He's just coming to speak, it's not like he's going to have sex on stage," said Seth Dryden, an EWU student. "I support Eastern's decision to bring Ron Jeremy to speak."
Local journalism is essential.
Give directly to The Spokesman-Review's Northwest Passages community forums series -- which helps to offset the costs of several reporter and editor positions at the newspaper -- by using the easy options below. Gifts processed in this system are not tax deductible, but are predominately used to help meet the local financial requirements needed to receive national matching-grant funds.
Subscribe now to get breaking news alerts in your email inbox
Get breaking news delivered to your inbox as it happens.
---